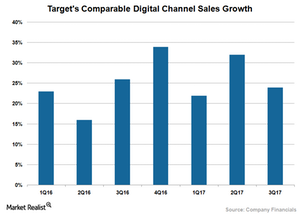 Target's Growth Initiatives Are on Track
Digital business remains strong
Target's (TGT) revenue rose for the second consecutive quarter due to the strong performance of its digital arm, which grew 24.0% during the reported quarter. Although the company's digital channel accounted for only 4.3% of the total sales in fiscal 3Q17, the e-commerce business contributed to the company's comps growth rate.
Target announced several customer-friendly initiatives that are resulting in higher sales. The company ramped up its delivery mechanism with the acquisition of Grand Junction and expanded its Restock program to newer markets. It's offering more than 15,000 items under the Restock program. Target extended its partnership with Google (GOOGL) and announced a new partnership with Pinterest to expand its digital reach. Read Is Target Poised to Grow? to learn more.
However, Target's peers aren't sitting idle either, especially Walmart (WMT). Walmart has emerged as the dominant player in the e-commerce space. Costco (COST) is slowly catching up and announced its two-day free delivery service in the US (SPY).
While retailers are investing in the digital space, Amazon (AMZN) went the other way and acquired Whole Foods to strengthen its grocery business. Amazon forced retailers to invest in price to remain competitive and drive traffic.
Article continues below advertisement
Other key growth measures
Besides its digital business, Target is actively focusing on its stores. The company remodeled 37 stores in 3Q17 and remains on track to remodel ~110 stores in fiscal 2017. The company ramped up the opening of small-format stores. Notably, the remodeled and small-format stores generate higher productivity and are witnessing a healthy comps growth rate.
Target launched eight new exclusive brands to date, which are growing at a brisk pace. The brands are expected to boost the company's top-line growth.
Target's growth measures are working and have resulted in higher traffic in the past two consecutive quarters. However, increased competition, lower pricing, and category softness remain a drag.