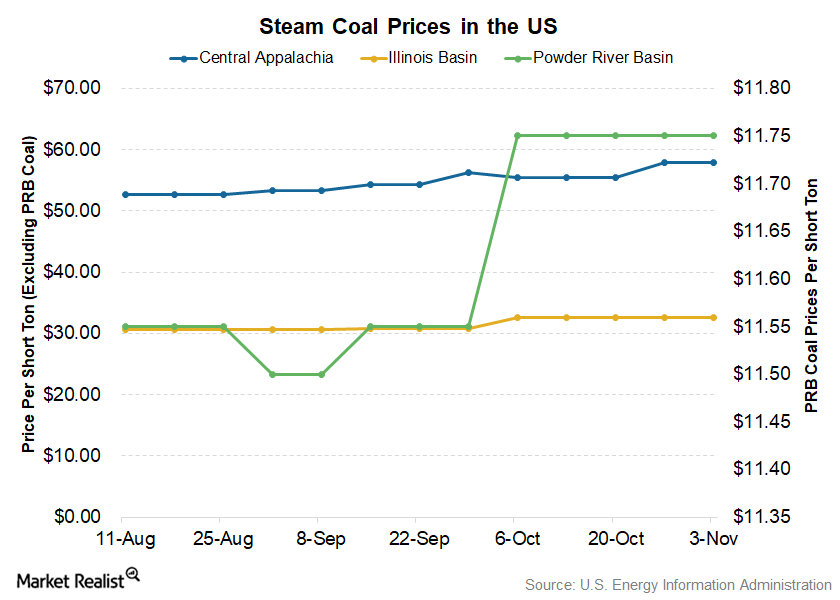 Spot Coal Prices Remained Flat in the Week Ending November 3
Coal-producing regions
The three major coal (KOL) mining regions in the US are the Appalachian region, the Illinois Basin, and the Powder River Basin.
The Illinois Basin is located in Ohio, Illinois, and western Kentucky. The region produces bituminous coal, which has a high sulfur content. The major players in this region are Alliance Resource Partners (ARLP) and Peabody Energy (BTU).
Powder River Basin coal is the most low-cost coal mining region because all the mines are surface mines. The reserves are located in Wyoming and Montana. The mines produce sub-bituminous coal.
The coal mined from the Appalachian region has a low sulfur content.
Article continues below advertisement
Weekly spot coal prices
During the week ending November 3, 2017, spot coal prices from all of the regions remained steady without any change compared to their prices in the week ending October 27. Powder River Basin coal settled at $11.75 per short ton, while Illinois Basin spot coal prices closed at $32.60 per short ton.
The spot price for Central Appalachian coal remained constant at $57.85 per short ton for the last two consecutive weeks. Coal mining methods in the Appalachian region are more expensive than the other two regions. It encouraged most of the coal miners to shift their operations to the low-cost Illinois Basin region. However, Natural Resource Partners (NRP) continues to operate coal mines in the Appalachian coal reserves. CNX Coal Resources (CNXC) also has mining operations in the region.
Visit Market Realist's Coal page for more earnings release updates.