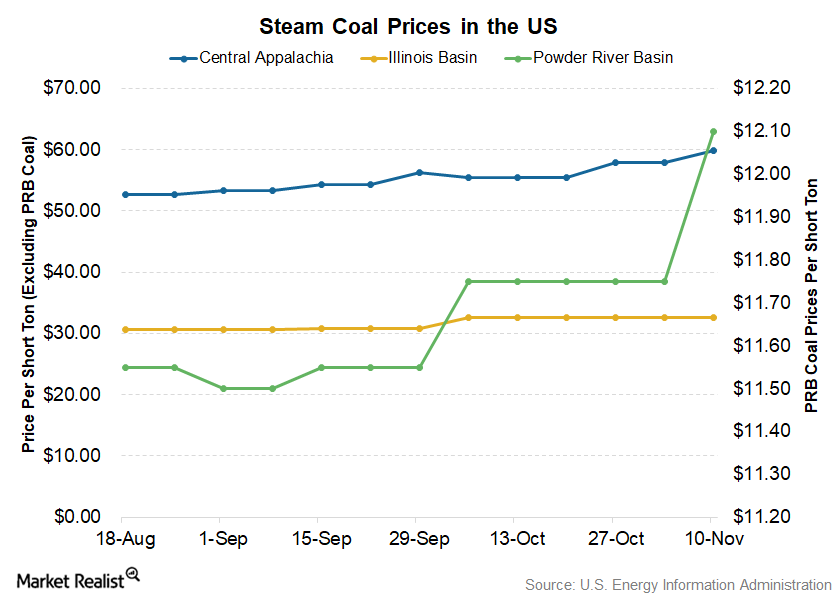 Powder River Basin Coal Spot Prices Recovered Sharply
Coal-producing regions
There are three main coal-producing (KOL) regions in the United States—the Appalachian region, the Illinois Basin (or ILB), and the Powder River Basin (or PRB).
Appalachian coal has a low sulfur content, while coal produced in the ILB has a high sulfur content. The ILB produces bituminous coal and is located in Ohio, Illinois, and western Kentucky. The major players in the ILB region are Alliance Resource Partners (ARLP) and Peabody Energy (BTU).
PRB coal is sub-bituminous in nature and mined from surface mines. So it's the most low-cost mining region. These surface coal reserves are located in Wyoming and Montana.
Article continues below advertisement
Weekly coal spot prices
During the week ended November 10, 2017, PRB coal closed at $12.10 per short ton, which was ~3% higher than $11.75 per short ton that coal maintained for the past five weeks. The price of ILB spot coal remained at $32.60 per short ton for the sixth consecutive week.
The spot price for Central Appalachian coal rose ~3.4% to close at $59.85 per short ton. It was $2 above that price when the market closed on November 3, 2017. The Appalachian regions use more expensive coal-mining methods than the other two regions. Due to higher-cost operations, most of the coal producers have shifted their mining activities to the lower-cost ILB. CNX Coal Resources (CNXC) and Natural Resources Partners (NRP) still operate coal reserves in the Appalachian region.
Be sure to visit our Coal page for earnings updates.