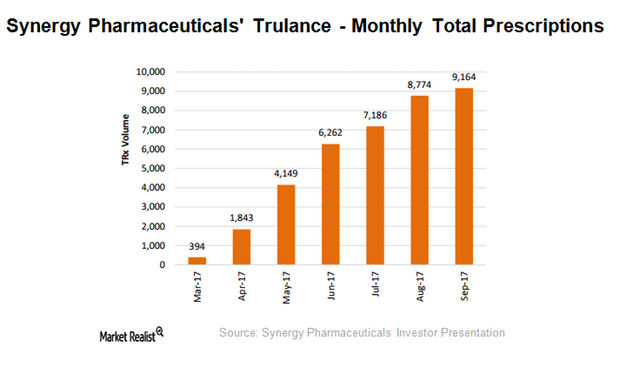 An Overview of Trulance: Synergy Pharmaceuticals' First Commercialized Drug
By Kenneth Smith

Nov. 21 2017, Updated 3:35 p.m. ET
Performance since launch
Since its launch, Synergy Pharmaceuticals' (SGYP) Trulance sales have been steadily rising. According to Synergy, in 3Q17, more than 25,000 prescriptions were filled for the drug, representing a 105% rise over prescription fills in 2Q17. A total of nearly 38,000 prescriptions have been filled since the launch of Trulance in March 2017.
Synergy's sales force is targeting prescribers to increase sales. The success of this strategy is evident from the fact that ~7,000 healthcare professionals had prescribed Trulance by the end of 3Q17, representing a QoQ (quarter-over-quarter) rise of 87%.
According to synergy, ~20% of prescribers account for over 70% of the branded constipation prescription market in the US. With this in mind, Synergy's sales force is targeting high volumes, prescribing gastroenterologists to drive Trulance's numbers higher.
Article continues below advertisement
Focus on increasing coverage
For the commercial success of a drug, it's crucial to be included on formulary lists. Synergy has thus been continuously trying to increase coverage for Trulance through discussions and meetings with payers. The efforts are bearing fruit, and according to the company, ~84% of people covered by the largest commercial plans in the US had Trulance coverage, with up to 67% having unrestricted access.
Over 40% of lives covered by the largest Medicare Part D and Managed Medicaid plans in the US had Trulance on formulary lists. The company expects Trulance to gain more favorable access across commercial, Medicare Part D, and Managed Medicaid plans in 2018.
In the CIC market, Trulance competes with Linzess, which is commercialized by Ironwood Pharma (IRWD), and Allergan (AGN) in 2012 in the US. It competes with Astellas Pharma (ALPMY) in Japan. In 3Q17, Linzess generated sales of ~$73 million in the US.
Strong intellectual property
By the end of December 2016, the company had 21 issued patents in the US, eight foreign patents, and 17 pending patent applications in the US, and 82 foreign pending patent applications.
Notably, Synergy Pharmaceuticals makes up about 0.02% of the iShares Russell 2000 ETF's (IWM) total portfolio holdings.
In the next part, we'll take a deeper look at Synergy's financials.