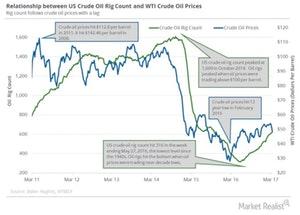 Oil Prices above $60: What It Means for Offshore Drilling
By Sue Goodridge

Updated
Oil prices
Oil prices are above $60 per barrel after almost two years. On October 30, 2017, Brent crude oil prices were $60.10 per barrel and West Texas Intermediate crude was at $53.91 per barrel.
Why oil prices rose
Oil producers are urging for a production cut ahead of the ministerial meeting, which is scheduled next month. On October 28, 2017, Saudi Arabia's Crown Prince Mohammed bin Salman confirmed the country's willingness to back OPEC's production cut until at least late 2018. Also, geopolitical tensions in the Middle East fueled bullish sentiments.
Crude oil prices rebounded in 2017. The supply cuts, which came into effect in January 2017, helped shrink the inventories after three years of supply glut in the market. OPEC countries have cut the oil production by 517,000 barrels per day since the beginning of the year.
Oil price forecasts
A few months ago, analysts slashed the oil price forecasts as OPEC's production cut drew down the supply slower than expected. The global oil demand growth at the end of the summer was stronger than expected and the inventory fell stronger than expected, which changed the sentiment.
According to the EIA's (U.S. Energy Information Administration) short-term energy outlook report on October 11, 2017, it estimates that Brent crude oil prices will average $52.43 per barrel in 2017—2.7% higher than its previous estimate. According to the World Bank, oil prices will rise to $56 per barrel next year from $53 per barrel in 2017. Analysts at Jefferies estimate that Brent crude oil to be $58 per barrel by the end of 2018.
Importance of oil prices
The offshore drilling industry's fate is closely tied to oil prices. E&P (exploration and production) companies' current profits and expectations of oil prices in the future decide the yearly drilling budgets. When oil prices fall, E&P companies shy away from giving new contracts to offshore drillers, which implies that lower oil prices are negative for offshore drillers (OIH) like Noble (NE), Seadrill (SDRL), Ocean Rig (ORIG), Ensco (ESV), Rowan Companies (RDC), and Transocean (RIG).