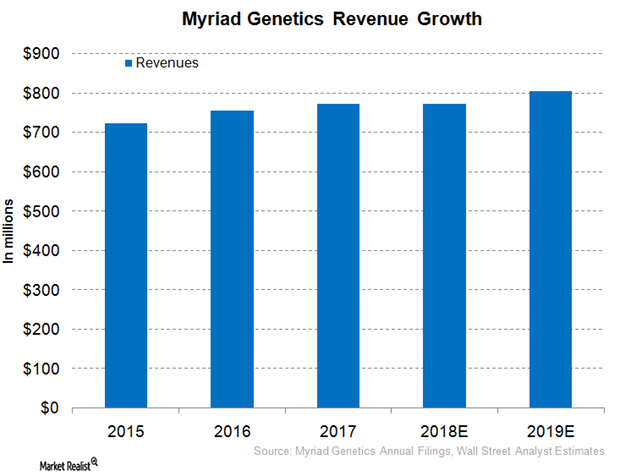 Myriad Genetics Expected to Report Flat Revenue Growth in Fiscal 2018
Flat revenue growth
Myriad Genetics (MYGN) expects to report revenues in the range of $750 million–$770 million in fiscal 2018 (ended June 30, 2018). The company has also projected its 2Q18 revenues to be in the range of $187 million–$189 million.
Notably, Myriad Genetics accounts for 1.2% of the SPDR S&P Biotech ETF's (XBI) total portfolio holdings.
Wall Street analysts have projected Myriad Genetics' fiscal 2018 revenues to be close to $770.9 million, which represents a YoY (year-over-year) fall of ~0.07%.
For calendar 2017, peers Bio-Rad Laboratories (BIO), Laboratory Corporation of America (LH), and Quest Diagnostics (DGX) are expected to report revenues of ~$2.2 billion, ~$10.2 billion, and ~$7.7 billion, respectively.
Article continues below advertisement
Hereditary cancer revenue growth trends
In fiscal 4Q17, Myriad Genetics had projected a ~9% fall in hereditary cancer revenues for fiscal 2018, driven by a 12% fall in prices but partly offset by a 3% rise in volumes. In 1Q18, Myriad Genetics witnessed a ~3% rise in volumes of hereditary cancer tests performed, which was higher than the company's guidance.
Fiscal 1Q18 represents the third-straight quarter that Myriad Genetics has reported YoY growth in hereditary cancer volumes.
Hereditary cancer pricing, however, remained in line with the company's expectations, due to several long-term contracts signed by the company with commercial insurers in 2H17. While these contracts have helped improve price stability and pricing visibility, they will likely negatively affect the average selling prices charged in fiscal 2018.
This result could prove challenging for the company's overall top and bottom lines, as 86% of hereditary cancer revenues are covered by these fixed-price contracts for an average period of three years.
In the next part, we'll discuss Myriad Genetics' fiscal 2018 margin projections in greater detail.