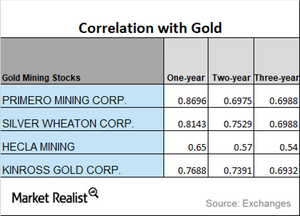 Mining Stocks: Understanding Correlation
Mining stocks and funds
When you look at mining stocks' performance, it's important to analyze their correlation with gold. These stocks typically take their directional cues from gold, which is the most dominant among precious metals. Gold's movement influences other precious metals as well as mining stocks.
In this part of our series, we'll assess Primero Mining (PPP), Silver Wheaton (SLW), Hecla Mining (HL), and Kinross Gold (KGC). Among the funds that also tend to have a strong correlation to precious metals are the Physical Silver Shares (SIVR) and Physical Swiss Gold Shares (SGOL) funds.
Article continues below advertisement
Trend reading
During the past year, Primero has had the highest correlation to gold. However, over the last few months, Primero has experienced massive losses for company-specific reasons. Hecla, on the other hand, shows the lowest correlation among the four miners we're discussing on a one-year basis.
Silver Wheaton, Hecla, and Kinross have seen upward trends in their correlations with gold. Silver Wheaton's correlation has risen from a three-year correlation of almost 0.70 to a one-year correlation of 0.81. A correlation of 0.81 suggests that, in the past year, Silver Wheaton has been taking cues from gold ~81% of the time. As a result, a rise in gold could lead to an increase in Silver Wheaton ~81% of the time.