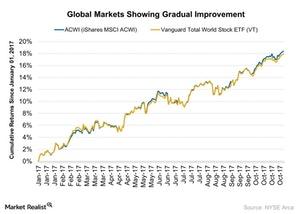 A Look at Key Economic Indicators Released in the Past Week
Key economic indicators
Economic indicators show the actual trend of the economic activity in a country. These economic indicators also help investors identify short-term trends in the market.
Article continues below advertisement
Series overview
In this series, we'll take a look at the final services PMI for major developed nations such as the United States, the UK, Japan, France, Germany, Spain, and the Eurozone for October 2017.
In our previous series, we saw that the manufacturing PMIs of the major developed nations showed strong figures in October 2017.
However, service PMI figures showed weaker improvements in October 2017. The service PMI figure is important for investors, as it shows the trend of service activity in a country.
In the next part of this series, we'll analyze the performance of the US services PMI for October 2017.