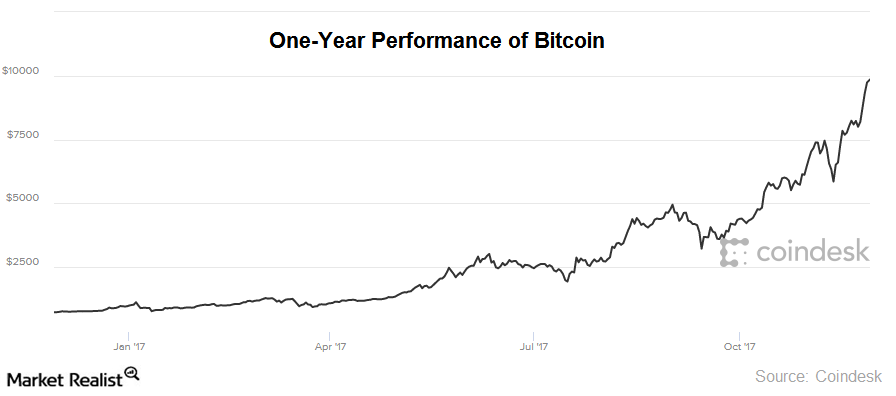 Why Gorman Doesn't Think Bitcoin Deserves So Much Attention
James Gorman on bitcoin
James Gorman thinks that investment in bitcoin could be risky. Moreover, investors who have turned to bitcoin as a safe investment might find themselves in trouble.
In the last one year, bitcoin soared strongly. It rose nearly 1,232%. James Gorman, chair and CEO of Morgan Stanley, thinks that with this much rise, the investment could be only speculative in nature. The graph above shows bitcoin's performance.
Article continues below advertisement
Growing acceptance of bitcoin
James Gorman said bitcoin is "punching above its weight" and that it "doesn't quite deserve the attention it's getting." However, he also acknowledged that due to the broader acceptance, this cryptocurrency may not vanish overnight.
Bitcoin acceptance is on the rise. On November 24, 2017, its total accounts have risen to 13.1 million. Moreover, on the same day, bitcoin was trading above $8,700, a record high. The sluggish growth in mining supply and many US (SPY) (SPX-INDEX) (QQQ) hedge fund firms as well as retail investors' strong position in bitcoin could be behind its appreciation. Bitcoin is mainly mined in China (FXI) (YINN).
Jamie Dimon, the chief executive officer of JPMorgan Chase (JPM), has called bitcoin a fraud. At the time, he said he didn't allow his bank to trade in the virtual currency.
You may be interested to read Where Paul Singer Placed His Bets in 3Q17.