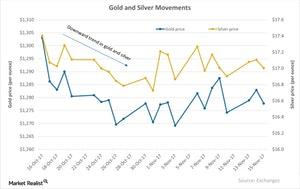 India's Gold Imports Have Fallen: What's Going On?
Gold and silver movements
The price movements in gold and silver have seen substantial ups and downs over the past month. Geopolitical tensions have given a boost to the haven demand for precious metals. But the likelihood of an interest rate hike in December is pulling the metals lower.
Investors interested in an indirect exposure to gold can invest in the iShares Gold Trust ( IAU) and the ETFS Physical Swiss Gold
(SGOL)
. These funds closely track the performance of gold. They have seen a YTD (year-to-date) rise of 10.9% and 6.7%, respectively. The SPDR Gold Shares
(GLD)
is among the most famous funds and remains in high demand when gold rises.
Indian scenario
India and China are the two largest gold-buying countries. The demand from these two countries plays a major role in the overall demand for precious metals. For India, gold imports have fallen 16% in value to ~$2.9 billion in October 2017 compared to $3.5 billion in the corresponding month last year. According to the country's gold trade officials, the fall in demand in October was mainly because Dusshera, a major Hindu festival, and other religious ceremonies associated with gold-buying took place in September this year. The festivals, which follow the lunar calendar, see remarkable gold buying each year.
Article continues below advertisement