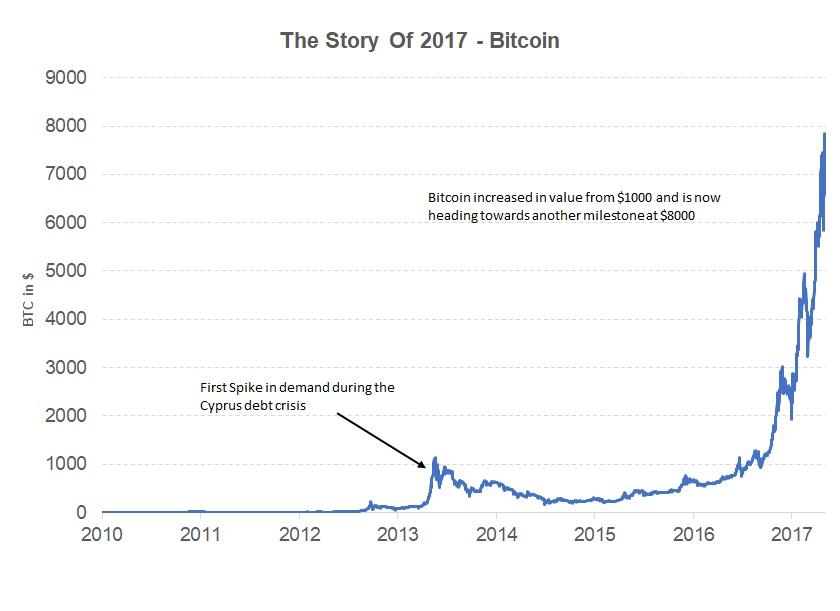 How Did Bitcoin Come to Be?
The birth of bitcoin: the core idea
In 2017, there's been a lot of chatter about bitcoin and other cryptocurrencies in the financial world. Investors seem to be divided between the validity and the future of this new form of currency, given its innovative characteristics.
The idea behind bitcoin is simple: to create a new platform for transactions and storage of value that's independent of central banks, involves minimal transaction costs, and eliminates existing inefficiencies in the banking system.
Article continues below advertisement
Catalyst for the demand of cryptocurrencies
The idea of cryptocurrency was born after the financial crisis of 2008, when we saw that traditional financial systems based on "trust" proved to be inefficient. The first spurt in demand for bitcoin was seen during the banking crisis in Cyprus.
Before Cyprus was bailed out by the European Central Bank in 2013, there was a proposal to take a small amount of money from every bank account in the financial system. This announcement triggered a demand for bitcoin from European investors because they feared for the safety of their savings in the banking system.
Trust is not the only reason for the widespread demand for cryptocurrencies. Increased participation, acceptance by major companies like Microsoft (MSFT), PayPal (PYPL), and IBM (IBM), and the unbelievable rally of bitcoin prices in the past year have attracted the attention of the global investor community.
Series overview
In this series, we'll discuss the history of bitcoin, who founded it, how it was created, what its uses are now, how it will likely be regulated, and how it could be used in the future. We'll assess whether bitcoin is turning into new asset class like gold (GLD), which is considered to be a store of value, or a new form of currency like the US dollar (UUP) or the euro (FXE), which are accepted across the globe for cross-border transactions.
Readers need to bear in mind that there's no central regulator for bitcoin, and so there are many information sources about cryptocurrencies. Below, we'll try to gather as much information as we can and present it in a way that makes it easier to understand the evolution of cryptocurrencies.