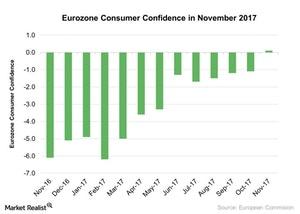 Eurozone Consumer Confidence in Positive Zone after a Decade
Eurozone consumer confidence in November
According to a report from the European Commission, the Eurozone Consumer Confidence Index stands at 0.1 so far in November 2017 compared to -1.1 in October 2017. The index moved into positive territory for the first time in 16 years. It beat the market expectation of -0.8.
Article continues below advertisement
Major economies of the Eurozone such as Germany (DAX-INDEX), France (EWQ), Spain (EWP), and the Netherlands are showing strong improvement in economic activity. In the previous part of this series, we saw how the improving inflation index is minimizing deflationary pressure that hampered growth in previous years. The overall performance of the major economic indicators could be signaling that the economy is on the right track.
Performance of ETFs
The iShares Europe ETF (IEV), which tracks the performance of the Eurozone, has risen 0.23% so far in November 2017 as of November 24, 2017. The iShares MSCI Eurozone ETF (EZU) has shown no change so far in November.
In the next part of this series, we'll analyze the performance of the Germany ZEW Economic Sentiment Index in November 2017.