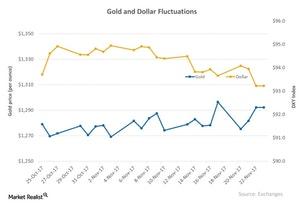 Is the Dollar-Gold Relationship Getting Stronger?
Dollar association
Precious metals have been closely associated with the movement of the US dollar over the last few months. When the markets get comparatively stable, the US dollar is an element that could sway these metals. Precious metals, as we know, are dollar-denominated assets that quickly react to price changes in the US dollar Index (or DXY).
The DXY prices the dollar against a basket of six major world currencies, including the Candian dollar, the sterling pound, the Swiss franc, the Japanese yen, the euro, and the Swedish krone. The DXY has fallen a whopping 9.2% since the beginning of 2017. It stood at a 30-day trailing loss of 1.1% and fell 0.47% on Friday, November 24, 2017.
Article continues below advertisement
Inverse relationship
The above chart shows the comparative price performance of gold and the US dollar during the last month. They often deviate from each other, following an inverse trend in their relationship.
The DXY fell on Wednesday, November 22, 2017, by 0.78%, which led to a rebound in all four dollar-denominated precious metals. Since precious metals are dollar-based assets, a rise in the dollar leads to investors around the globe shunning the demand for the dollar as well as greenback-based assets such as gold and silver, thus leading to falling prices.
Much of the speculation regarding an interest rate hike could be positive for the dollar (UUP) and negative for gold and other precious metals (SGOL) (SIVR).
Among the mining companies that have seen positive returns during the last five trading days are Buenaventura Mining (BVN), Randgold Resources (GOLD), Silver Wheaton (SLW), and Eldorado Gold (EGO).