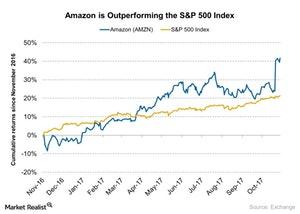 Why David Einhorn Is Betting against Amazon
By Sarah Sands

Updated
David Einhorn on Amazon
In the previous part of this series, we discussed that David Einhorn has a short position in Tesla (TSLA) and included it in his "bubble basket" list. The legendary investor also included Amazon (AMZN) and Netflix (NFLX) on this list. He is betting against Amazon.
David Einhorn is doubtful about Amazon's acquisition of Whole Foods Market (WFM). He said in July 2017, "When companies announce large acquisitions, they typically explain the implications and strategy. AMZN has said nothing and left the interpretation to the market's imagination, which for the time being skews optimistic."
Article continues below advertisement
According to the hedge fund manager, Amazon needs to clarify its profit stream. The company needs to clarify the benefit that it will get from each acquisition. He said, "our view is that just because Amazon can disrupt somebody else's profit stream, it doesn't mean that Amazon earns that profit stream. For the moment, the market doesn't agree."
Amazon's performance
On a YTD (year-to-date) basis, Amazon has returned nearly 40% as of November 3, 2017. The broader market S&P 500 Index (SPY) (QQQ) returned nearly 15.5% during the same period. Amazon is presently trading at a very high price-to-earnings multiple. In spite of higher multiples, investors are optimistic about the stock.
According to an institutional ownership report, Vanguard Group was the largest investor in Amazon as of June 30, 2017, with 26.8 million shares. BlackRock (BLK) was the second largest investor with 23.9 million shares as of June 30, 2017.
In the next part of this series, we'll analyze David Einhorn's largest holdings in 2Q17.