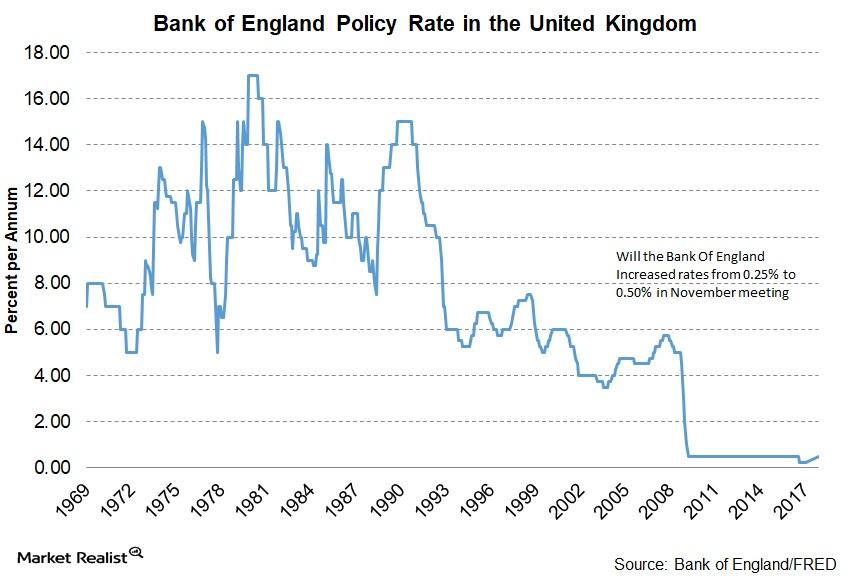 Bank of England Raises Interest Rate to 0.50%
Bank of England hikes interest rate
The BOE (Bank of England) in its November meeting increased its benchmark interest rates from 0.25% to 0.50%. The targets for the quantitative easing asset buying program were left unchanged at 435 billion British pounds and 10 billion pounds for the government and corporate bonds (SLXX), respectively.
The decision to hike the interest rate by the MPC (Monetary Policy Committee) was taken by a voting majority of seven to two. The decision to leave the asset purchase program unchanged was unanimous.
Article continues below advertisement
Were markets prepared for the hike?
Markets appear to have been well prepared for a rate hike because the Bank of England clearly signaled the possibility of a rate hike in its September meeting. The economic data in the interim period indicated that the British economy was on a solid recovery path, while longer-term Brexit uncertainties remain in play.
The key point to note in this meeting is that the Bank of England gave no indication of any future rate hikes, implying that the central bank would keep its options open and conduct monetary policy operations based on incoming economic data.
Market reaction to the BOE rate hike
British equity markets (EWU) remained unimpacted by the interest hike likely because the hike was already mostly priced in by markets. Small exporting companies (EWUS) in the index have witnessed a minor rise in demand after the British pound (GBB) depreciated following the BOE policy statement.
The policy statement paid no heed to the market pricing in another rate hike in late 2018, meaning that rates will likely remain low for at least another year. After the statement, the British pound (FXB) depreciated against the US dollar (UUP) and the euro (FXE). UK Bond yields declined by 6–8 basis points along the yield curve.
In the next part of this series (below), we'll analyze the BOE's view of inflation and economic performance.