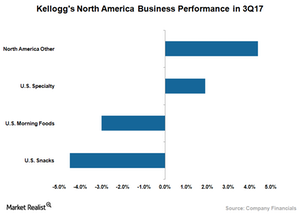 A Look at Kellogg's 3Q17 Performance in North America
North America remains challenged
Kellogg's (K) 3Q17 performance in North America continued to be soft as weak consumption in cereals and price adjustments related to the transition from DSD (direct-store delivery) to warehouse delivery for U.S. Snacks remained a drag. The company's net sales in North America fell 1.6% YoY (year-over-year), reflecting a decline in volumes and pricing.
Other food manufacturing companies, including Kraft Heinz (KHC), Campbell Soup (CPB), JM Smucker (SJM), and General Mills (GIS), are also seeing lower demand for their products in North America.
Article continues below advertisement
Sales by segments
In North America, Kellogg's U.S. Snacks segment continued to report lower sales. The segment's top line fell 4.5% YoY, reflecting lower pricing and a decline in volumes. The company stopped shipping through the DSD distribution system, reduced its workforce, and eliminated less productive SKUs (stock keeping units), which adversely affected its sales.
Sales for Kellogg's U.S. Morning Foods segment fell 3.0% YoY, reflecting a soft consumption trend in the cereal category, mainly in the health and wellness brands for adults. However, kids-oriented brands, including Froot Loops and Frosted Flakes, continued to gain traction. Pop-Tarts toaster pastries also gained market share.
Sales for Kellogg's U.S. Specialty segment continued to grow, rising 1.9% in 3Q17. Sales were driven by strength across convenience and food service channels. Hurricane-related orders also led to higher sales.
In Kellogg's North America Other segment, net sales improved 4.4%, reflecting increased sales of frozen foods with consumption growth for Eggo and Morningstar Farms. Disney-shaped waffles gained traction. Sales in Canada were the same as the prior year. Kashi's sales decline rate moderated, driven by renovated and new product launches.