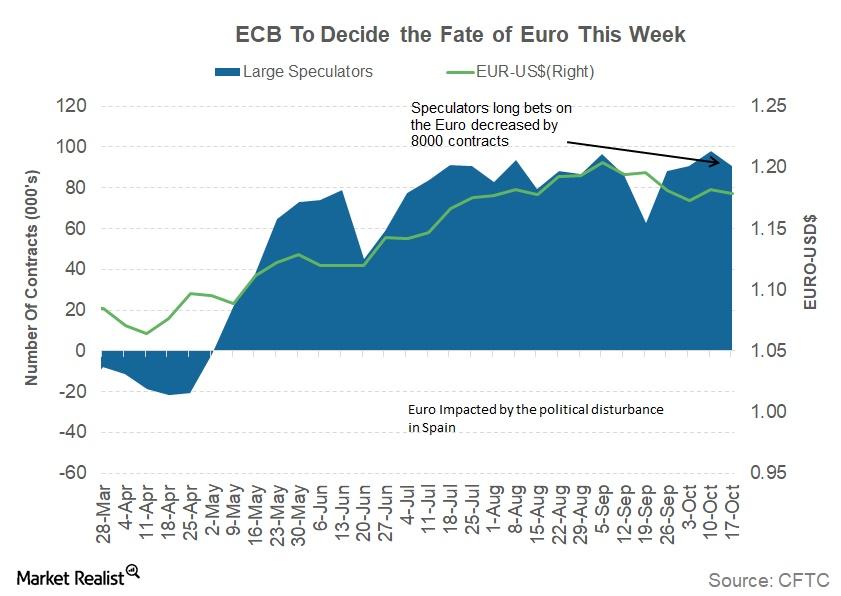 Why the Euro's Troubles Could Continue This Week
Euro remained the subject of uncertainty
The euro-dollar (FXE) closed the week ending October 20 at 1.179 against the US dollar (UUP). The euro traded in a narrow range as investors and traders remained on the sidelines. Developments in Catalonia added to the euro's troubles. The Spanish government has removed the autonomy of the Catalonian government and is expected to impose direct rule. This announcement by the Spanish Prime Minister, Mariano Rajoy, reignited the political crisis in the region.
European equity markets (VGK) remained unchanged for the week despite the strong momentum in equity markets globally. The German DAX (DAX) ended the week unchanged, the Euro Stoxx (FEZ) was up 0.01%, and France's CAC was up 0.39% in the previous week.
Article continues below advertisement
Euro speculators decrease their bets
As per the latest Commitment of Traders (or COT) report, released on Friday, October 20 by the Chicago Futures Trading Commission (or CFTC), speculators reduced their bullish positions on the euro. The total net speculative bullish positions on the euro (EUFX) fell to 90,452 contracts from 90,833 contracts as of October 17. The escalation of political uncertainty is likely to weigh on trader sentiment, and the impact could be seen in the October 27 COT report.
ECB and politics to drive the euro this week
The forex markets' major focus will be the European Central Bank (or ECB) this week. All the recent comments have indicated that the ECB is likely to make a decision on its asset-buying program at this meeting. It is likely that the asset purchase program could be toned down, but by how much and how quickly could decide the direction for the euro. A hawkish taper, which would mean scaling down the bond-buying program without an extension, could prompt the euro to rally. A dovish tone combined with the political disturbance is likely to weigh on the euro this week.
In the next part of this series, we'll discuss why speculators are turning bearish on the British pound.