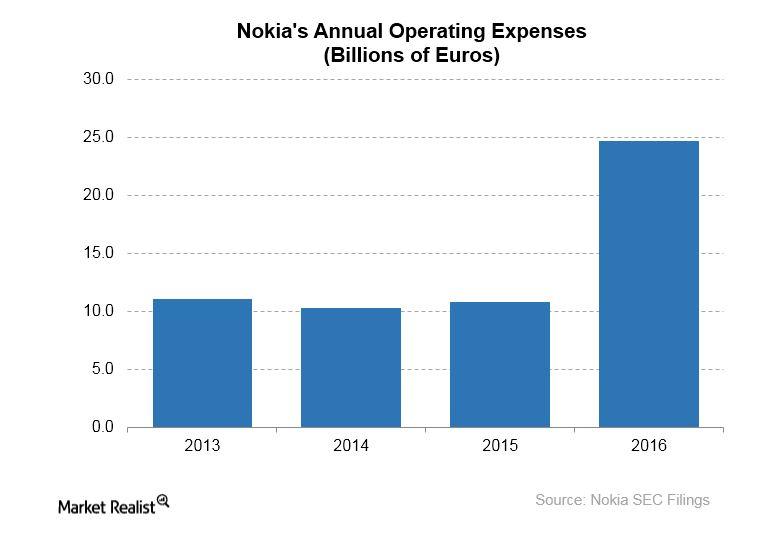 Why Nokia Is Cutting Jobs in France
Nokia cutting about 600 French jobs
Nokia (NOK) plans to hire 500 workers in its French R&D (research and development) unit to fulfill an employment pledge made when it acquired Alcatel-Lucent. However, the company also intends to eliminate hundreds of French jobs.
In September 2017, Nokia announced that it would lay off about 600 employees in France by the end of 2019. Nokia's French R&D unit, where the company is required to have hired a total of 2,500 employees before the end of 2018, is expected to be spared the layoff.
Article continues below advertisement
Cost-cutting behind the jobs cut
The job cut that Nokia plans to undertake in France is tied to an efficiency program that the company is undertaking. Nokia is working toward a goal of eliminating 1.2 billion euros (or ~$1.4 billion) in annual operating expenses throughout the company.
Nokia's total operating expenses, which include payroll costs, rose to 24.7 billion euros in 2016. Nokia's 2016 expenses were 10.8 billion euros higher than in 2015, as shown in the chart above. Costs and expenses tied to the acquisition of Alcatel-Lucent were partly responsible for the sharp spike in operating expenses in 2016.
A 100,000-strong workforce
With respect to cutting jobs in France, Nokia can only go so far. The company is required to maintain a total French workforce of 4,200 employees until 2018. When Nokia announced its plans to eliminate about 600 jobs in France, the French government and unions worried that the move could jeopardize the company's employment pledge.
As a result, Nokia's layoff plan was temporarily suspended until after the French government, unions, and Nokia management met to discuss the plan for the job cuts, Reuters reported.
Nokia ended 2016 with a workforce of about 101,000 employees worldwide. Its Europe-based (EFA) competitor Ericsson (ERIC) finished 2016 with more than 110,000 employees globally. Cisco Systems (CSCO), the US-based (SPY) partner of Ericsson, ended fiscal 2016 with a global workforce of 73,700 employees.