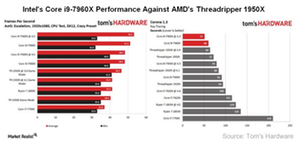 Where the Intel-AMD Core War Could Be Headed
By Puja Tayal

Updated
Is the Coffee Lake launch a wise move by Intel?
Coffee Lake is the fourth processor on Intel's (INTC) 14 nm (nanometer) node. But the delay in its 10 nm chip and increasing pressure from Advanced Micro Devices (AMD) have forced Intel to rush its CPU (central processing unit) design, leading to the creation of Intel's Coffee Lake.
This rushed design brings several challenges. There is a global supply shortage of Coffee Lake processors as it is not available on Amazon.com (AMZN). A prolonged supply shortage may encourage consumers to buy AMD's Ryzen.
Article continues below advertisement
Coffee Lake processors require consumers to upgrade to a Z370 chipset-based motherboard. Meanwhile, the short period of just ten months between Kaby Lake and Coffee Lake might encourage customers who spent a huge sum on Kaby Lake processors to skip Coffee Lake and instead wait for Intel's Cannon Lake CPUs.
For consumers who have not upgraded for years, they can get Coffee Lake CPU for an extra $40, though this would likely cannibalize the sales of Kaby Lake. This could lead to a lot of unsold inventories of Kaby Lake.
AMD's Threadripper versus Intel's i9 processors
Another addition to the Intel-AMD core war involves Intel's 18-core i9-7980EX, priced at $2,000, and AMD's 16-core Threadripper 1950X, priced at $1,000. From a value standpoint, AMD offers more cores for less money.
The Threadripper 1950X, or the Core i9-7960X, is not targeted at gamers, but Tom's Hardware tested both CPU's gaming performance and found that the i9-7960X delivered better performance than the Threadripper 1950X, though Intel's Core i7-7700K stood out in gaming performance.
Anandtech found that the i9-7960X predecessor 10-core i9-7900X, priced at $1,000, performed better than the Threadripper 1950X in several single-threaded tasks. But AMD's Threadripper performs better in multithreaded tasks like 3D content creation, ray tracing, and video editing.
As both the i9-7960X and the 1950X are targeted at the workstation market, the latter offers better value for money. But these processors won't likely work in the consumer market as most consumers don't need a 16-core CPU.
Intel's fiscal 4Q17 revenues will likely determine how successful its core war with AMD has been.