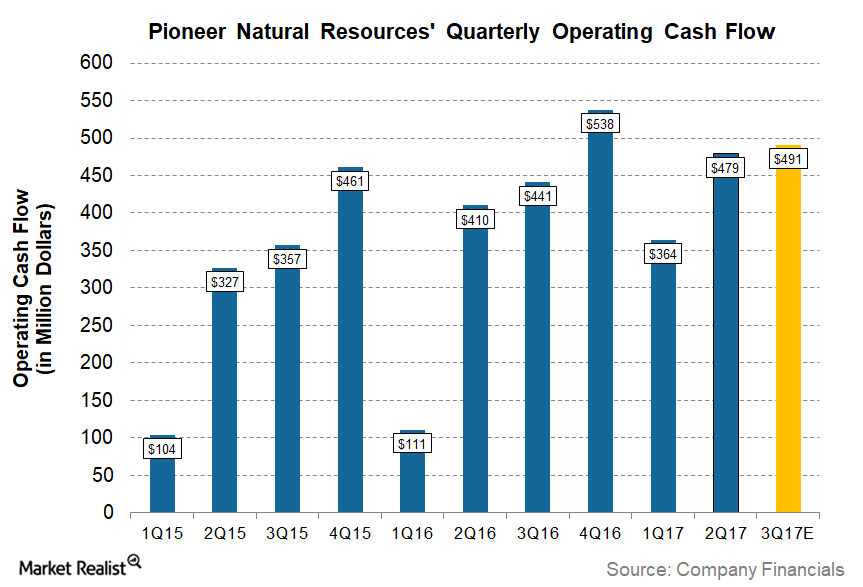 What to Expect from Pioneer Natural Resources' Cash Flow in 3Q17
Pioneer Natural Resources' cash flow estimates
Wall Street analysts expect Pioneer Natural Resources (PXD) to report year-over-year cash flow of ~$491 million in 3Q17 compared to ~$441 million in 3Q16. PXD's estimated 3Q17 cash flow is higher than the ~$479 million it reported in 2Q17.
Pioneer Natural Resources' operating cash flows rose in fiscal 2015 despite the steep decline in crude oil (SCO) and natural gas (BOIL) prices. However, in 1Q16, Pioneer Natural Resources' cash flow dropped steeply to ~$111 million, the lowest level in the last two years. But since then, PXD's cash flows have bounced back to around $400 million.
Wall Street analysts are expecting PXD's 3Q17 capital expenditures to be around $703 million, which means PXD's 3Q17 free cash flow will be negative. PXD peer Occidental Petroleum (OXY) reported $1.9 billion in cash flows in 2Q17.
Article continues below advertisement
Capital expenditures
In 1H17, Pioneer Natural Resources' total capital expenditures were ~$1.16 billion, which is higher by ~5% when compared with 1H16 capital expenditures of ~$1.10 billion.
In its 2Q17 earnings press release, Pioneer Natural Resources reduced its fiscal 2017 capital expenditures guidance by $100 million to $2.7 billion. PXD's capex guidance excludes asset retirement obligations, acquisitions, capitalized interest, geological expenses, general and administrative expenses, and IT system upgrades.
PXD's forecasted fiscal 2017 capital program represents an increase of ~31% when compared with capital expenditures of ~$2.1 billion in 2016. PXD's peer Encana (ECA) expects capital expenditures in the range of $1.6 billion–$1.8 billion, which represents a midpoint increase of ~55% when compared with capital expenditures of ~$1.1 billion in 2016.