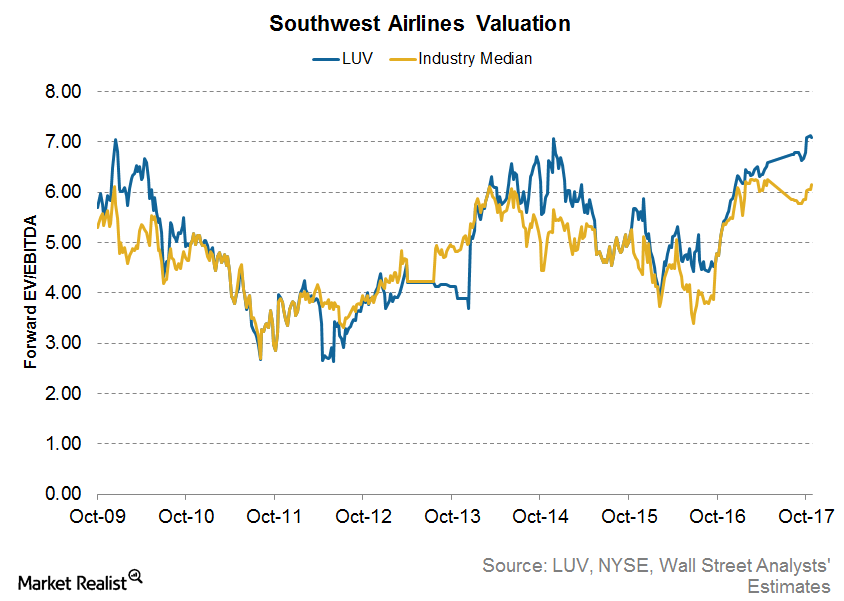 What Does Southwest Airlines' Current Valuation Indicate?
Current valuation
Southwest Airlines (LUV) has a forward EV-to-EBITDA[1. enterprise value to earnings before interest, tax, depreciation, and amortization] multiple of 7.1x. This is the highest multiple among the major airline carriers and is higher than its average valuation of 6.3x since September 2008.
Article continues below advertisement
Peer comparisons
American Airlines (AAL) is trading at a similar valuation of 6.7x and Alaska Air Group (ALK) is trading at 6.5x. They are followed by Spirit Airlines (SAVE) at 6.1x, Delta Air Lines (DAL) at 5.8x, and United Continental (UAL) at 5.4x.
The market expects LUV's EBITDA to record growth of 3.3% YoY. AAL's valuation is high, despite the market expecting its EBITDA to decline 1.5% in 2017. DAL's earnings are expected to decline 2.2%.
United Continental's earnings are expected to decline 9% and JetBlue's earnings are expected to decline 11%, which could explain their low valuations. ALK's earnings are expected to grow 14.5%, and SAVE's earnings are expected to grow 9.9%.
Our analysis
In the short term, investors are keenly watching Southwest Airlines' ability to achieve its guidance of returning to positive unit revenue growth. Another factor that could play an important role is the aggressive growth being pursued by airlines.
As a result, airfares have been declining, which benefits the consumer but is negative for investors.
For the long term, investors should track the industry fundamentals. Economic growth, for example, has proven to be one of the drivers of airline demand. This leads to rising disposable income that can lead to increased travel demand.
Investors can gain exposure to Southwest Airlines by investing in the PowerShares Dynamic Large Cap Value Portfolio ETF (PWV), which holds 1.5% of its portfolio in the stock.