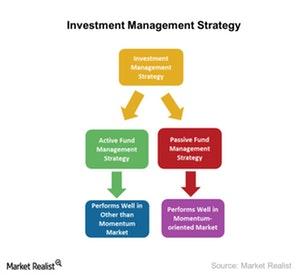 Why Is Buffett Betting Big on Index Funds?
By Sarah Sands

Dec. 4 2020, Updated 10:53 a.m. ET
Buffett on passive investment
Warren Buffett said in his recent interview with CNBC that the passive investment strategy or indexing strategy should work well in any market situation. Buffett has made huge profits by betting on the S&P 500 Index (IWM) (VOO) over the past ten years and expects that the S&P 500 will beat a basket of hedge funds over the next decade.
Specifically, Buffett said that the S&P 500 "will absolutely kill every one of the [actively managed] funds [because] passive investment in aggregate is going to beat active investment because of fees."
Article continues below advertisement
Fund management style depends on investors' risk appetite and investors' expected returns. The passive fund management style is becoming more popular in the current market environment, and this style performs well when there is a momentum-oriented market. In other scenarios, the active fund management strategy does well, but higher management fees are now affecting the performances of actively managed funds.
Index-based ETFs
Major index-based ETFs such as the SPDR S&P 500 ETF (SPY), the iShares Russell 2000 ETF (IWM), and the PowerShares QQQ ETF (QQQ) have risen ~11.4%, ~10.5%, and ~19.8%, respectively, on a YTD (year-to-date) basis, as of October 4, 2017.
Since the November 2016 US election, market momentum has been rising, and such ETFs are performing well, which is perhaps why Buffett continues to express his confidence in passive investments and indexing strategies.
For more, you may be interested in reading Market Realist's "Why Warren Buffett 'Never Sold a Share' of Apple."