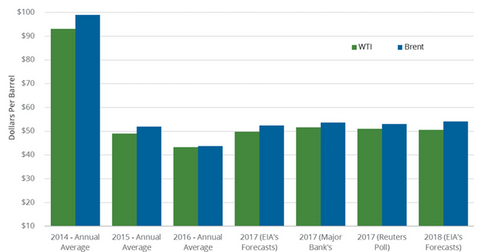 US and Brent Crude Oil Prices Could Trade below $60 per Barrel
By Gordon Kristopher

Updated
Hedge funds  
On October 27, 2017, the US Commodity Futures Trading Commission released its weekly Commitment of Traders report. It reported that hedge funds increased their net bullish positions in US crude oil (USO) (DBO) futures and options by 15,801 contracts or 7.2% to 234,878 contracts on October 17–24, 2017. However, the positions have fallen 12.4% or by 33,311 contracts year-over-year.
Hedge funds' net long positions in US crude oil (UWT) (DWT) futures and options are near a four-week high. It indicates that hedge funds are turning bullish or less bearish on crude oil (SCO) (USL) prices.
Article continues below advertisement
Crude oil price forecasts 
The U.S. Energy Information Administration estimates that US crude oil (SCO) (USL) prices could average $50.6 per barrel in 2018. It also expects that Brent crude oil prices could average $54.07 per barrel in 2018. US and Brent crude oil prices averaged $43.3 per barrel and $43.7 per barrel, respectively, in 2016.
Meanwhile, a market survey of oil producers' (XLE) (XOP) top management projected that oil prices could trade lower than $60 per barrel in 2018.
Global equity research firm Jefferies estimates that Brent (BNO) and US crude oil (UWT) (DWT) prices could hit $58 per barrel and $55 per barrel by the end of 2018. It also expects that the US crude oil production in 2018 would be lower than the forecasts. A possible extension of major producers' ongoing production cut and falling US and global crude oil inventories could help oil prices in 2018.
Read Will Brent and US Crude Oil Futures Hit New Highs? for the latest updates on crude oil. Read These Key Factors Are Driving the US Natural Gas Market for updates on natural gas.