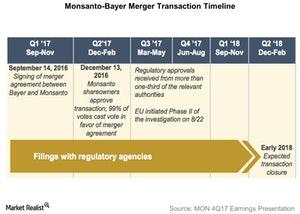 An Update on the Monsanto-Bayer Proposed Merger
Monsanto-Bayer merger
It's been about a year since the Monsanto-Bayer merger announcement was made. The merger was expected to be completed by the end of this year. But Bayer recently filed for an extension with European Union regulators, which pushed back the deal's completion date to early 2018. Let's look at the updates Monsanto (MON) provided during its earnings call.
Article continues below advertisement
The update
During the earnings call, Monsanto's management said, "Bayer continues to lead the regulatory filing process, and progress is moving along, as expected, around the world." Regulatory clearances are key to the merger completion of Bayer and Monsanto. Management also stated that it has received approvals from one-third of the regulators so far.
Companies (MOO) such as PotashCorp (POT) and Agrium (AGU) would also have to get regulatory approvals before merging, just as DowDuPont (DWDP) did.
It appears that Monsanto is still pursuing stakeholders on the benefits of this merger. During the earnings call, management said that it's "continuing outreach with stakeholders to convey the innovation opportunity that this deal can have on the future of agriculture."
That comes on the back of opposition from entities that are against the merger. Recently, we published a series that looked at some oppositions to the merger of these two companies. You can read more at Has the Monsanto-Bayer Merger Hit a Snag?