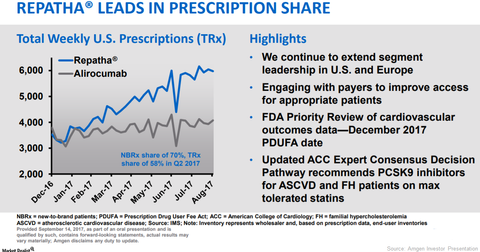 Repatha Could Be Amgen's Long-Term Growth Driver
By Daniel Collins

Updated
Repatha's revenue trends
In 1H17, Amgen's (AMGN) Repatha generated revenues of around $132 million compared to $43 million in 1H16. In 1H17, in the US market, Repatha generated revenues of around $93 million compared to $34 million in 1H16.
In 1H17, outside the US market, Repatha generated revenues of around $39 million compared to $9 million in 1H16.
Presently, Amgen is actively working toward improving patient access to Repatha in the US and around the world. In the US and European markets, Repatha holds 58% market share in the PCSK9 (Proprotein convertase subtilisin/kexin type 9) segment.
In the US market, new-to-brand patent share for Repatha averaged 70% in 2Q17. Repatha competes with Sanofi's and Regeneron Pharmaceuticals' Praluent in the marketplace.
Article continues below advertisement
FOURIER trial
In September 2017, Amgen presented new analysis from the cardiovascular outcomes study. The cardiovascular outcomes study demonstrated that Repatha significantly lowered low-density lipoprotein cholesterol (or LDL-C) levels in the blood and also consistently reduced cardiovascular events in patients with or without diabetes at baseline.
The analysis of the FOURIER trial demonstrated that diabetes was independently related to a significant increase in the risk of cardiovascular morbidity and mortality in individuals with the atherosclerotic cardiovascular disease.
When treated with Repatha, diabetes patients showed a greater reduction in the risk of cardiovascular events, which was primarily due to increased baseline risk.
In the Repatha cardiovascular outcome study, at baseline, 60% of the patients did not have diabetes, while 40% had diabetes. In the study, patients in the diabetes arm when treated with Repatha demonstrated a 57% mean reduction in the LDL-C levels in the blood. In the non-diabetes arm, the mean reduction in LDL-C levels was 60% at 48 weeks.
In the Repatha cardiovascular outcomes trial, the composite primary endpoint hazard ratio of Repatha therapy was 0.83 for patients with diabetes and 0.87 for patients without diabetes. Hospitalization for unstable angina, coronary revascularization, heart attack, and stroke was considered while evaluating the hazard ratio for the composite primary endpoint.
Amgen's peers in the cardiovascular drugs market include Regeneron Pharmaceuticals (REGN), Sanofi, Pfizer (PFE), AstraZeneca (AZN), and Takeda Pharmaceuticals. The PowerShares QQQ ETF (QQQ) invests ~2.1% of its total portfolio holdings in Amgen.