Putting Apple's $1 Billion Content Budget into Perspective
Services contributed 16% of revenue Apple (AAPL) generated $24 billion from its Services business in fiscal 2016, and aims to double the revenue in four years. In fiscal 3Q17, Apple's Services division contributed $7.3 billion in revenue, up 22% from a year earlier, and making up 16.1% of the quarter's total revenue. Apple's Services business consists of offerings […]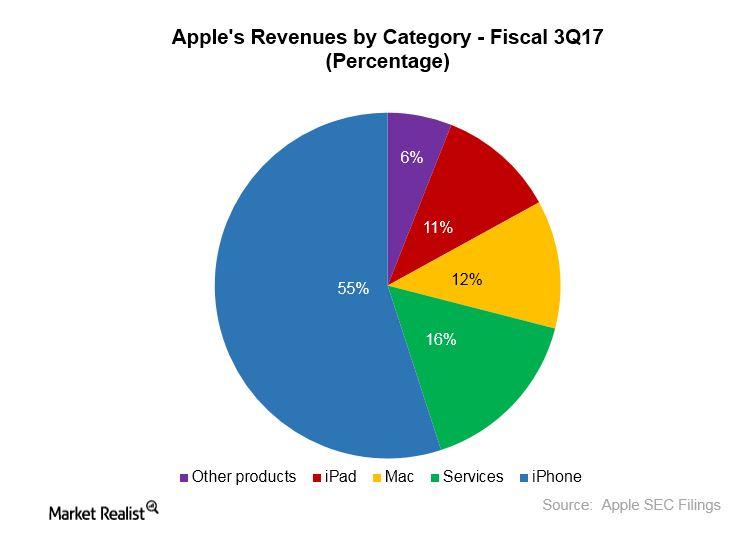 Services contributed 16% of revenue
Apple (AAPL) generated $24 billion from its Services business in fiscal 2016, and aims to double the revenue in four years. In fiscal 3Q17, Apple's Services division contributed $7.3 billion in revenue, up 22% from a year earlier, and making up 16.1% of the quarter's total revenue.
Apple's Services business consists of offerings such as App Store, Apple Music, and Apple Pay—a mobile payment service that initially launched in the United States (SPY) but is now available in the United Kingdom (EWU), Canada, Australia, Japan (EWJ), and China (MCHI).
Article continues below advertisement
Article continues below advertisement
Doubling Services revenue in four years
The company's reported $1.0 billion original programming budget is viewed as part of the push to its double Services revenue by 2020. By including original videos in Apple Music, Apple could make services more attractive to listeners, potentially resulting in more people subscribing to Apple Music. For Apple Music, Apple charges $10 a month for individual accounts or $15 a month for family accounts.
In search of an iPhone alternative
Given the stiff competition in the smartphone market, Apple is building its Services business so that it will rely less on iPhone sales for its future revenue and profits. As Apple struggles with stiff competition in the smartphone market, the Services business offers hope. In recent quarters, the Services unit has emerged as Apple's fastest-growing segment, encouraging more investment to strengthen the business and subsequently accelerate growth.