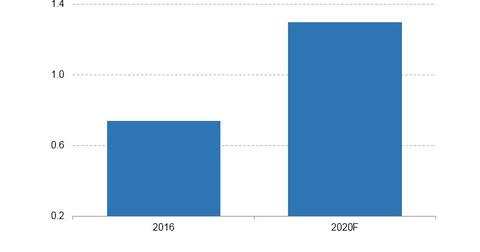 Making Sense of the AT&T-TUMI Collaboration
By Ruchi Gupta

Updated
AT&T-TUMI
According to research company Boston Consulting Group, three industries (discrete manufacturing, transportation and logistics, and utilities) will likely account for 50% of IoT (Internet of Things) spending by 2020. Research company IDC predicts that global IoT spending will surpass $1.0 trillion by 2020. Attracted by the bright prospects of the transportation subset of the IoT, US (SPY) wireless network operator AT&T (T) teamed up with luggage company TUMI to go for IoT spending tied to transportation.
Article continues below advertisement
Luggage tracker device
The companies are targeting the consumer segment of the transportation IoT market with a luggage tracking device, the TUMI Global Locator. The device, which weighs 150 grams and is about the size of the iPhone 7, is designed to track the location of bags or suitcases and send real-time alerts to users.
TUMI Global Locator uses GPS (global positioning system), GSM (global system for mobile communication), Wi-Fi, and Bluetooth signals for luggage tracking. The tracker can be tethered to devices running Apple's (AAPL) iOS or Google's (GOOGL) Android.
According to SITA (Société Internationale de Télécommunications Aéronautiques) and Air Transport World, over 21.6 billion bags were mishandled globally in 2016. The TUMI Global Locator could give travelers some much-needed peace of mind.
Global connectivity support
AT&T provides global connectivity for the TUMI Global Locator. This arrangement should help AT&T grow its share of IoT spending and compete with Verizon (VZ). As illustrated in the chart above, IDC estimates that global IoT spending was $737 billion in 2016, and will swell to $1.3 trillion by 2020.