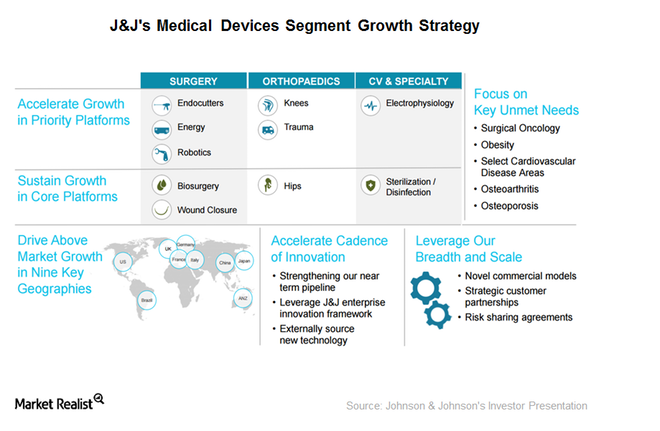 J&J Completed the Divestiture of Its Neurosurgery Business
Overview
Johnson & Johnson's (JNJ) medical device business has been restructuring in order to focus on higher growth areas with potential expansion opportunities. The diagram below highlights the company's medical device segment growth strategy. As part of this growth strategy, the company has undertaken a number of acquisitions, divestitures, partnerships, and collaborations.
On October 2, 2017, Johnson & Johnson announced the completion of the divestiture of its neurosurgery business, Codman Neuro, to Integra Lifesciences (IART). Integra Lifesciences acquired the business for around $1.1 billion. The deal was announced in February 2017. The FTC (Federal Trade Commission) approved the deal on September 27, 2017.
Article continues below advertisement
Article continues below advertisement
FTC approval terms
However, US anti-trust approval requires Integra Lifesciences to sell five of its businesses, which the company will sell to Natus Medical. Integra LifeSciences will be divesting its Camino ICP monitoring product line for $47.5 million. Natus Medical will also get Integra's San Diego manufacturing facility. Additionally, Natus Medical will gain US rights associated with "Integra's fixed pressure shunts and Codman's DURAFORM dural graft implant, standard EVD catheters and CSF collection systems."
Codman Neuro
Codman Neuro consists of a leading portfolio of neurointensive care, hydrocephalus management, and operative neurosurgery devices. The subsidiary registered sales of around $371.5 million in 2016. Codman Neuro has been growing through organic as well as inorganic growth. It had acquired Neuravi Limited in April 2017 to accelerate its presence in the acute ischemic stroke therapy market. Johnson & Johnson has launched Cerenovus, a new medical devices companies platform. Neuravi Limited and the product portfolio acquired through the acquisition of Pulsar vascular is now part of Cerenovus.
Medtronic (MDT) and Stryker (SYK) are two of the other players that provide neurovascular treatment devices and therapies.
On October 2, 2017, Johnson & Johnson rose approximately 1%, whereas Integra Lifesciences registered a gain of around 0.50%. The iShares Russell 1000 Value ETF (IWD) rose around 0.64% on the day. JNJ accounts for ~2.5% of IWD's total holdings.