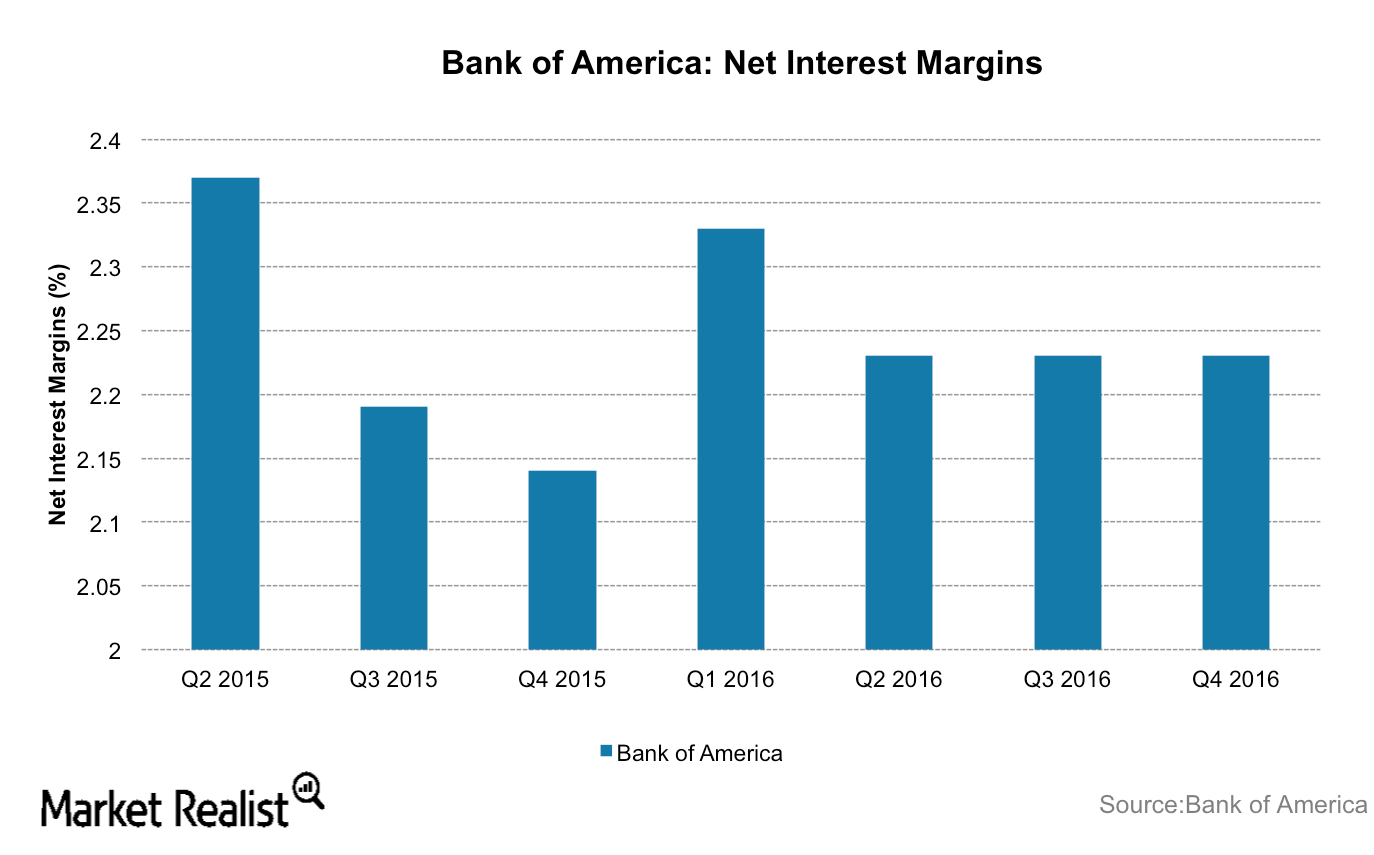 Interest Rate Hikes Will Drive Bank of America's Margins in 2017
By Rebecca Keats

Oct. 11 2020, Updated 12:29 p.m. ET
Interest rate sensitivity
Bank of America's (BAC) earnings are extremely sensitive to interest rate changes. Low interest rates weighed on the bank's top line in 2016, and it was hoping that the Federal Reserve would raise rates in December 2016.
In 4Q16, Bank of America reported a net interest margin of 2.2%, an expansion of 9 basis points compared to a year earlier. Further, BAC's net interest income rose 6% to $10.3 billion. In order to reduce the volatility of its interest-sensitive items, the bank also restated its earnings under FAS91 starting in the last quarter. This move should also help with peer comparisons.
Bank of America isn't alone in its struggle to boost earnings without a lift from higher rates. Its fall in profits despite loan growth is similar to the falls of its peers, including JPMorgan Chase (JPM), Wells Fargo (WFC), and Citigroup (C).
Article continues below advertisement
Bank of America's chief financial officer, Paul M. Donofrio, said during the company's recent earnings call, "While the recent rise in interest rates came too late to impact fourth-quarter results, we expect to see a significant increase in net interest income in the first quarter of 2017." According to a Reuters report, the bank will generate an additional $600 million net interest income in 1Q17 due to December's 25-basis-point rate hike.
Wall Street analysts expect the Fed to raise interest rates three times in 2017. Low interest rates translate to squeezed net interest margins for banks. Higher interest rates lead to higher net interest income for banks (XLF), resulting in higher profitability margins. However, the Fed has previously retreated from its expected interest rate hikes, leading to margin pressures.