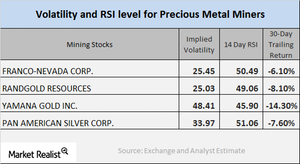 Inside Mining Stock Technicals on October 12
Mining shares
Most precious metals had a down day on Tuesday, October 10, despite the recent overall upward movement in precious metals. While metals and mining stocks move in sync most of the time, they do move in different directions on certain days due to stock-specific or market-specific reasons.
Below, we'll take a look at the volatility figures and RSI (relative strength index) levels of First Majestic Silver (AG), Royal Gold (RGLD), Gold Fields (GFI), and Compania de Minas Buenaventura (BVN).
Article continues below advertisement
Volatility of miners
Call implied volatility is used to read the variations in the price of a stock with respect to changes in the price of its call option. On October 12, 2017, AG, RGLD, GFI, and BVN had implied volatilities of 54.6%, 24.8%, 40.4%, and 35.3%, respectively. Remember, the volatilities of mining stocks can frequently be higher than the volatilities of precious metals.
RSI level
RSI levels help us analyze whether a stock is overbought or oversold. If a stock's RSI is higher than 70, it could be overbought, and the price could fall. If a stock's RSI is less than 30, it's considered oversold, and the price could increase.
The RSI levels of First Majestic, Royal Gold, Gold Fields, and Compania de Minas are currently 53.0, 44.8, 30.0, and 68.9, respectively. The recent rebound in these stock prices have led to rises in their RSI levels. All four of these miners have shown 30-day trailing losses, except BVN.
Notably, the iShares MSCI Global Gold Min (RING) and the SPDR S&P Metals and Mining (XME) also track the price changes in precious metals. RING and XME have seen year-to-date rises of 12.3% and 6.7%, respectively.