How Mako Robots Are Driving Stryker's Sales in 2017
Mako sales in 3Q17 In 3Q17, Stryker sold 33 Mako robots, compared with 30 robots in 3Q16. In 2Q17, Stryker installed 26 Mako robots. Of these 33 robots, 23 were installed in the United States. Around 40% of US sales are expected to be in competitive accounts. Stryker is training surgeons on its total knee application […]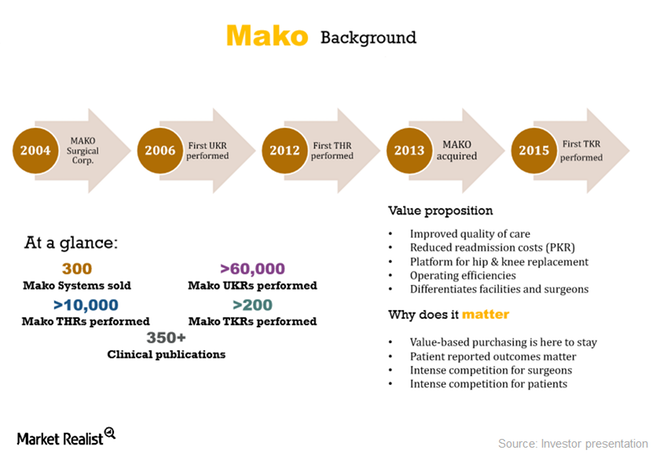 Mako sales in 3Q17
In 3Q17, Stryker sold 33 Mako robots, compared with 30 robots in 3Q16. In 2Q17, Stryker installed 26 Mako robots. Of these 33 robots, 23 were installed in the United States. Around 40% of US sales are expected to be in competitive accounts. Stryker is training surgeons on its total knee application with Mako robots to increase its utilization rate. Around 600 surgeons were trained in 3Q17.
Article continues below advertisement
Article continues below advertisement
Mako total knee application
Stryker's TKA (total knee application) with Mako robots is gaining momentum. Of the total installed Mako base in the United States, more than 50% is used to perform total knee procedures. Around 9,400 Mako total knee surgeries have been performed around the world since the launch. Between 2Q17 and 3Q17, Mako total knee procedures increased more than 50%. Stryker announced the commercial launch of Mako TKA in March 2017. The company held a limited launch of the product in June 2016.
Other major players in the knee implant market include Zimmer Biomet (ZBH), Johnson & Johnson (JNJ), and Smith & Nephew (SNN). Investors can get exposure to Stryker through the Vanguard Total Stock Market ETF (VTI), which accounts for ~0.18% of VTI's total portfolio.
Recent developments
In 3Q17, Stryker received 510(k) clearance for a cementless product offering that it aims to use with Mako TKA. Since the product is very popular among customers, it should boost Mako utilization rates. Stryker is continuously striving to invest in expanding access to its Mako robots and Mako's indications of use. The company has initiated a number of trials and clinical studies to prove the efficiency of Mako procedures. Next, we'll discuss the integration progress of Stryker's recent acquisition, Novadaq Technologies.