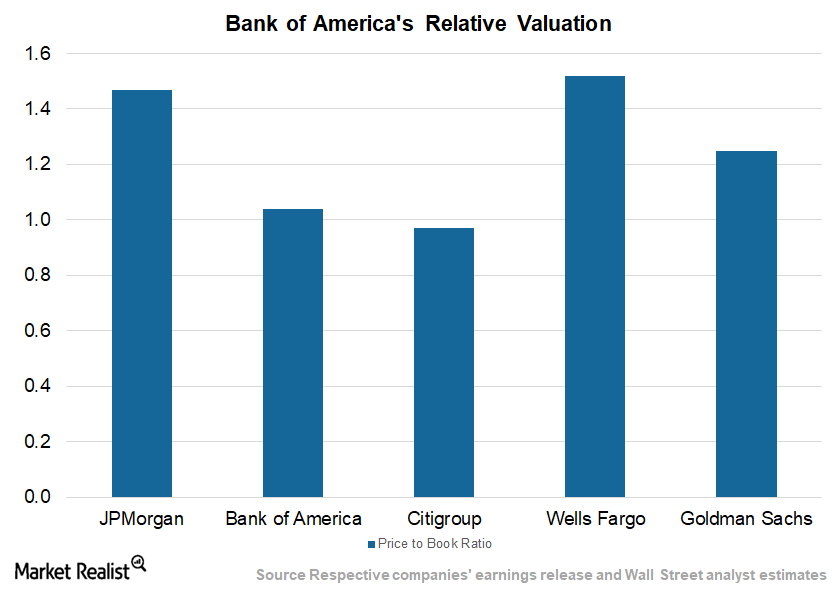 How Bank of America's Valuation Compares
By Robert Karr

Oct. 23 2017, Updated 7:35 a.m. ET
Catching up to peers
Bank of America (BAC) stock has risen 15.6% over the past six months and 60.1% over the past year, mainly due to improved operating performance supported by credit offtake, rising efficiency, and inflow in its asset management division. This improvement was partially offset by subdued trading over the last couple of quarters. In 3Q17, Bank of America posted net income of $5.6 billion. In the first three quarters of 2017, its net income expanded by 19% to $15.7 billion.
Article continues below advertisement
Bank of America stock is currently trading at $25.80, close to its 52-week high of $26.30. Major drivers that could impact its valuation include credit offtake, trading activity, macro reforms, and tax reduction. Bank of America generated a return on assets of 0.98% in 3Q17, which was higher than the previous quarter's 0.93%. In 3Q17, the bank's book value per share fell 1.0% to $23.92, while its tangible book value rose 1.0% to $17.23.
Price-to-book multiple
The commercial banking sector (IYF) is valued by price-to-book multiples. Bank of America is currently trading at a price-to-book multiple of 1.0x, compared to the industry average of ~1.3x. The industry's average valuation improved and crossed 1x after various quarters of continued growth and cleaning up balance sheets. Bank of America competitors' price-to-book multiples are as follows:
In 4Q17, Bank of America is expected to post EPS (earnings per share) of $0.47, compared with $0.40 in 4Q16. Sequentially, growth is expected to be subdued due to weaker trading revenue, and marginal or no growth in offtake.