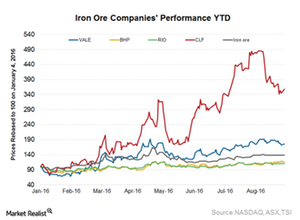 How Owning the Tilden Mine Fits Into Cleveland-Cliffs's Strategy
Cleveland-Cliffs now fully owns Tilden
On October 2, 2017, Cleveland-Cliffs (CLF) announced its acquisition of U.S. Steel Corporation's (X) 15% equity interest in the Tilden mine for $105 million. Cleveland-Cliffs already owned the other 85% of the joint venture.
This transaction will provide 1.2 million tons of annual pellet production capacity to Cleveland-Cliffs, taking its capacity to ~20 million tons, compared with 19 million tons in 2017. It will also add 55 million tons of proven and probable crude oil reserves.
Article continues below advertisement
Article continues below advertisement
Rationale behind the transaction
In a press release, Cleveland-Cliffs CEO Lourenco Goncalves stated that the current strength in the Great Lakes iron ore pellet market and the expected demand from its new HBI (hot briquetted iron) made this acquisition a priority for the company.
This transaction will also help the company transition towards growth, as it has successfully managed its debt schedule. Management has always been optimistic about domestic US steel (SLX) demand. This transaction highlights the company's confidence in the future of the US steel sector. Moreover, Cleveland-Cliffs's Asia-Pacific operations are near the end of their economic life. The company wants to exit the business as it believes that this market is driven by decisions by the top three iron ore players, BHP Billiton (BHP), Rio Tinto (RIO), and Vale (VALE). Cliffs wants to focus on its preferred market, the United States, for its next leg of growth.
FBR Capital Markets' views
FBR Capital Markets analysts have a positive view on the deal. As reported by Barron's, FBR analysts see the transaction as accretive and entailing minimal operational risk.