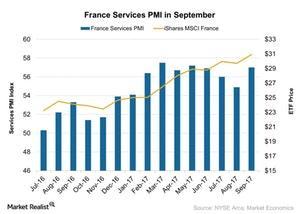 France's Services PMI Strengthened in September after a Gradual Fall
France's services PMI in September
According to data provided by Markit Economics, the final Markit France services PMI (purchasing managers' index) stood at 57.0 in September 2017 compared to 54.9 in August 2017. This beat the initial estimate of 56.0.
In September 2017, France's services PMI strengthened after a gradual decline in the last three months. The performance of France's services PMI in September was mainly due to the following factors:
Production volume and output rose at a stronger rate in September 2017.
New business orders and export orders showed faster improvement in September 2017.
The job growth in the service sector also rose in the same month.
Article continues below advertisement
Performance of various ETFs in September
The iShares MSCI France ETF (EWQ), which tracks France's performance, rose 4% in September 2017. The iShares MSCI Eurozone ETF (EZU), which tracks the performance of the Eurozone (HEDJ)(FEZ)(IEV), rose nearly 3.5% in that month.
The strong performance in major ETFs and the market indicates that the overall economic condition is improving in France. The domestic economy is changing, and the demand outlook is improving, which is a positive measure for various corporates. France's business confidence index also stood at 110 points in September, compared to 111 points in August.
However, the business confidence index has been improving gradually since July 2016. The rising business confidence index signals that businesses are optimistic about the demand outlook for the economy.
In the next part of this series, we'll analyze the services PMI for Spain in September 2017.