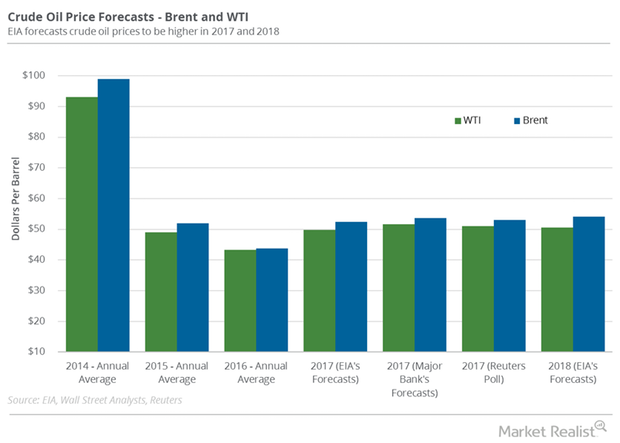 What to Expect from Crude Oil Prices in 2018
Hedge funds 
The U.S. Commodity Futures Trading Commission released its weekly "Commitment of Traders" report on October 20, 2017. It published that hedge funds reduced their net long positions in US crude oil (UCO) (USL) futures and options by 19,480 contracts to 219,077 contracts on October 10–17, 2017. These positions fell 8% week-over-week and 25% or by 72,376 contracts from the same period in 2016.
Hedge funds' net bullish positions in US crude oil (SCO) (DWT) futures and options fell for the third straight week—a four-week low. It indicates that hedge funds are turning bearish or less bullish on crude oil (DBO) (UWT) prices.
Article continues below advertisement
Crude oil price forecasts  
The EIA (U.S. Energy Information Administration) released its Short-Term Energy Outlook report on October 11, 2017. It estimates that US crude oil (USO) (UCO) prices could average $49.7 per barrel in 2017—1.7% higher than the survey in September 2017. US crude oil prices could average $50.6 per barrel in 2018—2% higher than previous estimates.
The EIA added that Brent crude oil (BNO) prices could average could average $52.43 per barrel in 2017—2.7% higher than previous estimates. Brent crude oil prices could average $54.07 per barrel in 2018—4.8% higher than previous estimates. Major producers' production cut deal and falling US and global crude oil inventories could drive oil prices higher in 2018. However, rising US crude oil production could limit the upside for oil prices.
US and Brent crude oil prices averaged $43.3 per barrel and $43.7 per barrel, respectively, in 2016.
Read Are US and OPEC Supplies Helping Crude Oil Bulls? for more on oil. Read Will US Natural Gas Prices Rise This Winter? for natural gas updates.