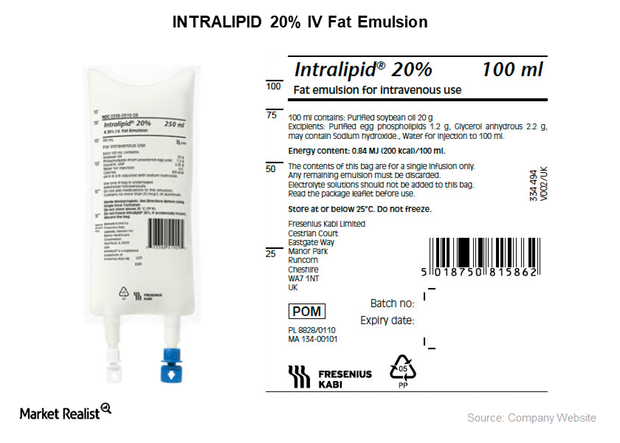 Chart in Focus: Baxter International's Intralipid 20% Recall
Overview
On October 5, 2017, Baxter International (BAX) announced the voluntary recall of a shipment from a lot of Intralipid 20% IV Fat Emulsion, 100 mL. This lot was distributed from August 11 to August 31, 2017.
The user level distribution to healthcare providers and hospitals in the United States was taken into consideration. The reason behind the recall was the product being exposed to subfreezing temperatures during transit. These temperatures were outside the storage range, as noted on the product labeling. Other lots of the same shipment were not impacted.
According to the company, "INTRALIPID 20% IV (intravenous) Fat Emulsion is a prescription product indicated as a source of calories and essential fatty acids for patients requiring parenteral nutrition for extended periods of times. The product is packaged in 100 mL bags."
Article continues below advertisement
Article continues below advertisement
What happens when Intralipid 20% is subjected to subfreezing temperatures?
If Intralipid 20% IV Fat Emulsion is frozen, the size of the emulsion droplets increases. They can form aggregates, which can lead to pulmonary circulation blockage and result in an adverse life-threatening health occurrence. According to Baxter International (BAX), no associated adverse events have been reported to date.
Baxter International stated that all customers should remove all such products and return them to the company for refunds. In the event of any adverse events, Baxter advised reporting such an event to the FDA's MedWatch Adverse Event Reporting program.
Although drug and device recalls are integral to the healthcare industry, they can impact investor sentiment and can impact the company's business and stock price. Although Baxter International's voluntary recall was a case of mishandling, there have been several other cases in the industry where the efficacy and safety of a product came into question, leading to recalls of those devices.
Other medical device companies in the US that have recalled product lots include Boston Scientific (BSX), Johnson & Johnson (JNJ), and Abbott Laboratories (ABT).
Investors who seek indirect industry exposure can consider investing in the Vanguard S&P 500 ETF (VOO). VOO holds ~0.14% of its portfolio in BAX.