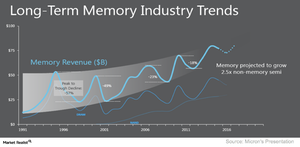 Changing Memory Industry Dynamics to Positively Impact Micron's Growth
By Puja Tayal

Oct. 9 2017, Updated 9:12 a.m. ET
How long could the memory market undersupply last?
The semiconductor industry is currently witnessing double-digit growth, mostly driven by memory chips. For the rest of 2017, Micron Technology (MU) expects the DRAM[1. dynamic random access memory] and NAND[2. negative AND] supply to remain moderately tight. The company expects supply to remain fairly tight in the server, mobile, and PC markets.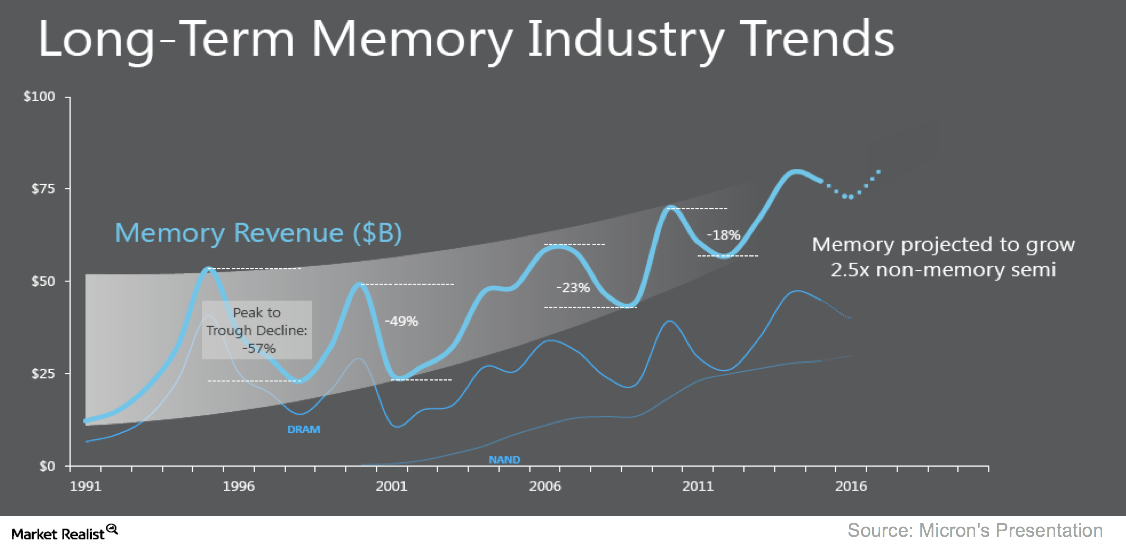 Although the memory market is currently in an uptrend with strong demand and prices, there are concerns over how long this trend could last. Memory is a commodity that is primarily governed by the market forces of supply and demand.
In our view, this cycle is different. Not only has the memory industry changed but its consumer markets have also changed. Micron has also changed and is no longer the same company it was two years ago.
Article continues below advertisement
Changing dynamics of the memory industry: Demand
The memory industry is not what it was during the 2014–2015 uptrend. The DRAM market has consolidated significantly to just three players—Samsung (SSNLF), SK Hynix, and Micron.
The NAND market is also consolidating with Western Digital (WDC) acquiring SanDisk and now the Bain Capital and Apple (AAPL) consortium acquiring Toshiba (TOSBF). This oligopoly market has created strong supply discipline.
Changing dynamics of the memory industry: Demand
On the demand side, the memory market has diversified significantly. Until 2012, PC and mobile were the two major end markets, and a slowdown in these markets had a significant impact on the memory market. Now, the memory markets have diversified to include cloud computing, automotive, and IoT (Internet of Things). There is strong memory growth in these new markets.
Not only has the market expanded but the memory content per device is also growing. For instance, Micron expects the SSD (solid-state drive) attach rate to increase to ~50% in 2018 and 75% in 2020. Apart from the attach rate, the average capacity requirement per server is also increasing.
At the 2017 HPC[1. high-performance computing] Advisory Council Stanford Conference, IBM (IBM) Research Almaden's research director, Jeffrey Welser, stated that more data would be collected, stored, and analyzed at a faster rate, driving demand for NAND storage.
Although these secular trends could drive demand for a longer term, memory prices could still come down. The price would fall if supply exceeds demand. However, the intensity of the fall would decrease as memory supply becomes more disciplined and memory demand become more diversified.
So far, we've seen how the memory industry and markets have changed. Next, we'll see how Micron has changed.