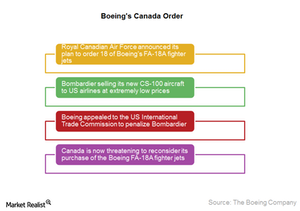 Canada Puts Boeing Defense Order on Hold
Canadian Air Force order
The Canadian Air Force (or CAF) placed an order for 65 Lockheed Martin (LMT) F-35 fighter jets for $30 billion. This purchase was also an effort to promote the aircraft it had built in a coalition with nine other countries.
However, as questions were raised regarding the benefits of the expensive LMT aircraft over Boeing's (BA) CF-18 fighter jets, the CAF canceled that order to replace it with 18 of Boeing's CF-18 aircraft. The order was worth $5.2 billion.
Article continues below advertisement
Order on hold
As a result of Boeing's complaint against Bombardier, Canada has put its purchase order of the Boeing FA-18A fighter jets on hold. Canada's Prime Minister, Justin Trudeau, has made it clear that the country would not do business with a company that is suing it.
Trudeau appears to be trying to protect the Canadian aerospace industry and Bombardier from potential financial troubles.
How does this move impact Boeing?
One of the primary reasons for Boeing's complaint stems from its early laissez-faire view of competition from rival Airbus, which has grown into a formidable competitor for Boeing. Boeing would like to avoid a similar situation with Bombardier, and it is making a statement about taking on state-subsidized rivals from China and Russia.
In our view, Boeing should perform a thorough cost-benefit analysis to protect its defense orders.
Next, we'll look at the impact of this move on the US's relations with Canada and Britain.
Boeing forms ~9.5% of the iShares US Aerospace & Defense ETF (ITA). ITA holds 9% in United Technologies (UTX), ~7.9% in Lockheed Martin (LMT), 6.5% in General Dynamics (GD), and 6.5% in Raytheon (RTN).