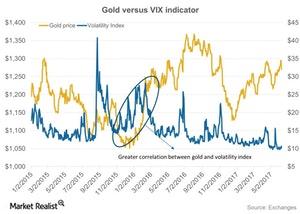 Are Global Fears Controlling Precious Metals?
Global fears grip
Precious metal prices had been moving up on Friday, October 13, perhaps driven by President Trump's rhetoric against the recent Iran deal. Trump warned that he might ultimately attempt to terminate the deal, regardless of whether or not he could certify that Tehran was complying with its end.
Meanwhile, ongoing worries in North Korea and political chaos in Washington have been crucial in boosting the prices of precious metals, which investors consider to be safe-haven investments. The higher the risk, the more investors tend to lean toward risk-free assets like gold and silver.
Article continues below advertisement
Economic numbers
The above chart shows how gold (GLD) keeps a close watch on market volatility, which is depicted here by the CBOE Volatility Index or VIX (VXX) (VIXY).
Many of the fluctuations among precious metals are also determined by the overall economic sentiment. The economic numbers that come out of the US are used to determine whether the economy could experience a boom or bust.
The CPI (consumer price index), which measures the changes in the prices of goods and services purchased by consumers, was most recently at 0.5%—lower than the expected figure of 0.6%—and retail sales numbers were 1.6%, compared with the analyst expectation of 1.7%. Core retail sales came in higher than expected at 1%.
Negative numbers often provide support to precious metals and mining company stocks. Mining stocks that have seen a rise in prices on a 30-day trailing basis include Compania de Minas Buenaventura (BVN), Silver Wheaton (SLW), Hecla Mining (HL), and First Majestic Silver (AG).