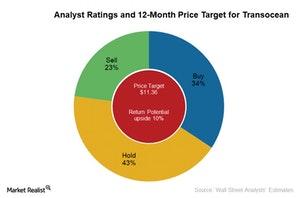 Analysts Revised Transocean's Target Price in October
By Sue Goodridge

Updated
Transocean
Previously, we looked at what Wall Street analysts expect for Transocean's (RIG) 3Q17 revenue and EBITDA (earnings before interest, tax, depreciation, and amortization). Now, we'll discuss analysts' latest revisions to Transocean's recommendations and target prices followed by the consensus recommendations.
Revisions
On October 19, 2017, JPMorgan Chase reduced the target price for Transocean to $8 from $10. On the same day, HSBC initiated coverage on Transocean with a "hold" rating and a target price of $11.5. On October 17, 2017, Evercore reduced Transocean's target price to $20 from $21. Earlier in the month, Citigroup upgraded the stock to "buy" from "neutral" and raised the target price to $14 from $8.8. Deutsche Bank initiated coverage on the stock with "buy" rating and a target price of $13.
Consensus recommendations
According to Reuters, 35 analysts gave recommendations on Transocean on October 27, 2017.
Of the 35 analysts, one analyst gave Transocean a "strong buy," 11 analysts gave a "buy" recommendation, and 15 analysts gave a "hold" recommendation. Seven analysts gave the stock a "sell" recommendation, while only one analyst recommended a "strong sell."
Target price
The consensus target price for Transocean is $11.36 as of October 27, 2017. The target price implies 10% potential upside from the current price of $10.33 on October 27. The target price is higher than the previous month's target price of $10.97.