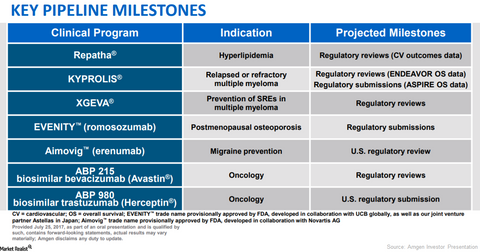 Amgen's Pipeline Could Boost Its Long-Term Growth Opportunities
By Daniel Collins

Updated
About EVENITY
EVENITY (romosozumab) is a monoclonal antibody under investigation that acts by inhibiting the activity of sclerostin. EVENITY helps by rapidly increasing bone formation and reducing simultaneous bone resorption.
Article continues below advertisement
ARCH Study
In September 2017, Amgen (AMGN) presented the results from the Phase 3 ARCH trial. The Phase 3 ARCH trial demonstrated that 12 months of therapy with Evenity (romosozumab) followed by alendronate had superior outcomes compared to alendronate-alone therapy in reducing new vertebral, clinical, non-vertebral, and hip fracture risk in postmenopausal women with osteoporosis who are at high risk for fracture.
In the Phase 3 ARCH trial, over 24 months, postmenopausal women with osteoporosis receiving Evenity therapy demonstrated a statistically significant 48% relative reduction in the risk of new spine fractures compared to patients receiving alendronate-alone therapy.
Postmenopausal women on Evenity therapy achieved higher gains in bone mineral density (or BMD) from baseline at all time points compared to those patients on Alendronate-alone therapy.
Recent updates on Kyprolis
In August 2017, the FDA accepted for review Amgen's supplemental New Drug Application (sNDA) for Kyprolis. Amgen's sNDA was based on overall survival (or OS) data from the Phase 3 head-to-head ENDEAVOR trial. 
This demonstrated that Kyprolis and dexamethasone combination therapy increased OS by 7.6 months. It decreased the risk of death by 21% compared to Velcade and dexamethasone combination therapy in individuals with relapsed or refractory multiple myeloma. 
Patients on Kyprolis and dexamethasone combination therapy showed median OS of 47.6 months compared to 40.0 months for patients on Velcade and dexamethasone combination therapy. The FDA has provided a Prescription Drug User Fee Act (or PDUFA) action date of April 30, 2018.
The FDA approval would help Amgen include the data from the ENDEAVOR trial in the Kyprolis US prescribing information. The superior clinical trial data would also help Amgen develop an updated commercialization profile for Kyprolis.
In the multiple myeloma drugs market, Amgen's Kyprolis competes with Takeda Pharmaceuticals' (TKPYY) Velcade, Celgene's (CELG) Pomalyst and Revlimid, and Johnson & Johnson's (JNJ) Darzalex. The Vanguard Total Stock Market ETF (VTI) invests ~0.58% of its total portfolio holdings in Amgen.