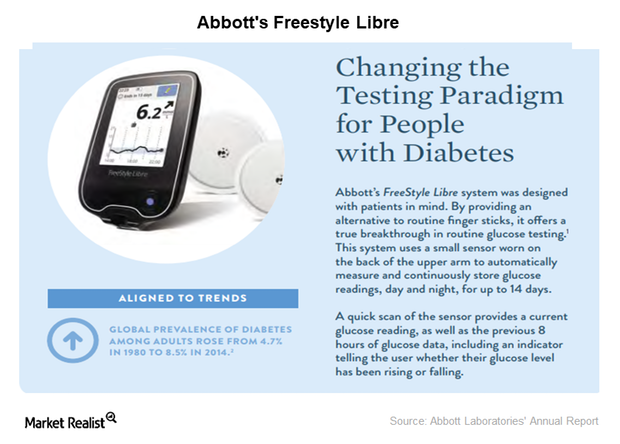 Abbott's Breakthrough CGM Device Freestyle Libre Wins FDA Approval
Abbott's Freestyle Libre approved in the US
On September 27, 2017, Abbott Laboratories (ABT) announced the FDA (US Food and Drug Administration) approval of its Flash CGM (continuous glucose monitoring) device, Freestyle Libre, for adult diabetes patients. The device's professional version was approved by the FDA in September 2016.
The device represents breakthrough technology that does not require routine system calibration through finger sticks. It is a new replacement technology for BGM (blood glucose monitoring) that is currently being used by diabetes patients.
Freestyle Libre is the only personal CGM in the United States. Some of the other companies that provide devices for diabetes management include Medtronic (MDT), Johnson & Johnson (JNJ), and Dexcom (DXCM).
Article continues below advertisement
Article continues below advertisement
Abbott's Freestyle Libre received a CE Mark in 2014 and is now available in ~40 countries and being used by more than 3 million people worldwide. The device has partial or full reimbursement in ~17 countries around the world, including France, Japan, and the UK. On September 13, 2017, the device received UK reimbursement approval.
Notably, investors can invest in the iShares Russell 1000 Value ETF (IWD) for exposure to Boston Scientific. IWD has ~0.76% of its total holdings in BSX.
Freestyle Libre features
Abbott's Freestyle Libre is the first continuous glucose monitoring system of its kind. It uses sensors to read the glucose levels of the patient, and the sensor is worn for up to ten days on the upper arm in back. The visual snapshot of the glucose level changes data collected during the day is referred to as an ambulatory glucose profile.
The device eliminates the need of painful routine finger sticks, and the data collected from continuously monitoring the patient's glucose levels provides the information that is used by the physician and the patient to better manage diabetes through customized and more appropriate lifestyle changes and medications.