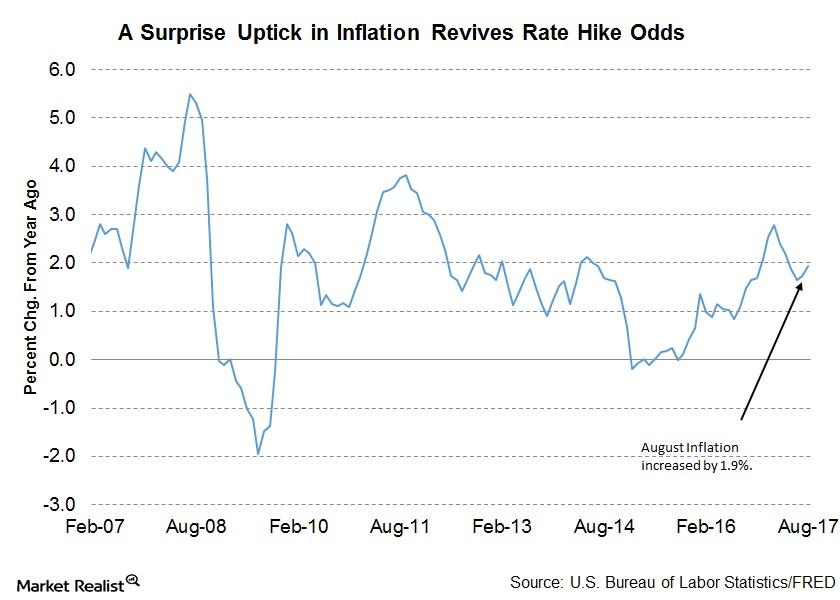 Will the Sudden Rise in Inflation Change the US Fed's Outlook?
August's inflation surprise
The consumer price inflation (CPI) data reported on Thursday indicated an increase of 0.4% in August. The year-over-year rate improved from 1.7% to 1.9% for August. Core CPI (SCHP) rose marginally, by 0.21%, but the reason for the increase was the surge in fuel prices in the previous month. As per data reported by the Bureau of Labor Statistics, a major reason for the rise in inflation (TIP) was the uptick in fuel prices. The energy component of the CPI basket rose 1.6% in August, reflecting the steep rise in crude oil prices last month.
Article continues below advertisement
Rate hike odds revived after inflation data
The US Fed has maintained that it targets an inflation (VTIP) rate of 2% and, in the last few months, the Fed has said it would take longer than expected to reach this goal. After the inflation data was reported on Thursday, the odds for another rate hike in December have risen, but they remain below 50%.
Will the Fed change its outlook after a spike in inflation?
The US Fed generally uses the personal consumption expenditure (or PCE) index as a measure of inflation, but the rise in CPI leaves some hope for a rate hike in December. Note that most of the gains in August were because of a bump in oil (USO) prices, and this factor could limit the Fed's ability to raise rates again.
In the next part of this series, we'll analyze how equity markets reacted to the possibility of tax cuts and rate hikes.