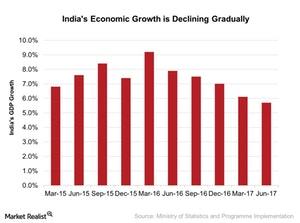 Could Indian Economy Grow Faster after GST Implementation?
Indian economy
However, since 1Q16, its economic growth has been declining gradually. On a yearly basis, its GDP growth was 5.7% in the second quarter of 2017 compared to a 6.1% growth in the first quarter of 2017. It didn't meet the market expectation of a 6.6% growth.
Article continues below advertisement
The slowdown in the country's exports and consumer spending mainly hampered the performance of economic growth in 2Q17. Manufacturing and agricultural activity declined that quarter. Since the implementation of the present government's demonetization program in November 2016, economic growth has shown a gradual fall in performance.
The demonetization program was mainly introduced to remove black money from the system and make the country corruption-free. The program created a huge shortage of money in the economy for the next two months. That hampered consumer spending and client demand.
GST implementation
On July 1, 2017, the government implemented GST (Goods and Service Tax). It's the government's attempt to implement one tax rate in every part of the country. However, there is a huge confusion among consumers about the tax. We might see a huge change in India's economic growth once this tax rate is fully implemented in every part of India.
In the next part of this series, we'll analyze the performance of China's economic growth so far this year.