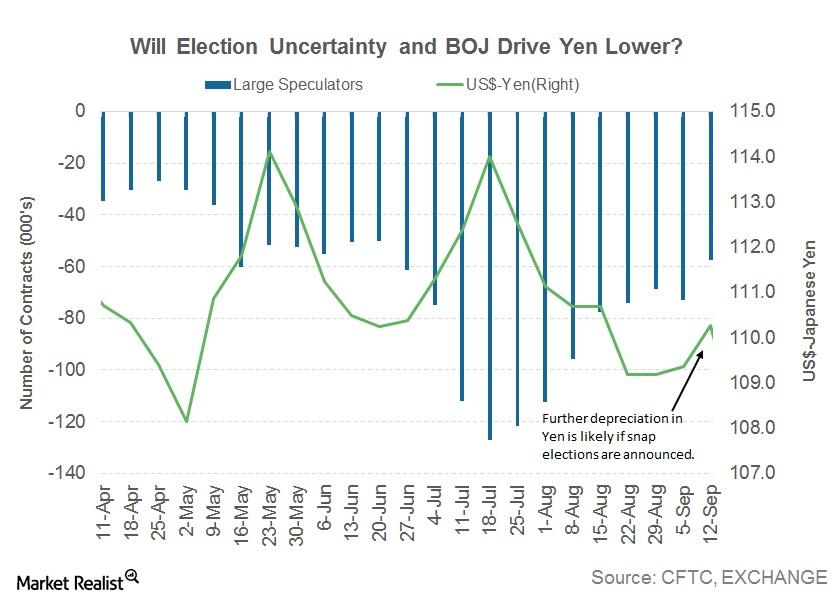 Will Election Uncertainty Drive the Japanese Yen Lower?
Yen rose because of US dollar weakness
The Japanese yen (JYN) continued to depreciate against the US dollar last week. For the week ending September 15, the Japanese yen (FXY) closed at 110.8 against the US dollar (UUP) with a fall of 2.8%. The rebound in the US dollar because of the increased odds for a rate hike from the US Fed led to the fall of the Japanese yen. Economic data from Japan was in line with expectations. The BSI large manufacturing conditions improved to 9.4 in Q3 as compared to a reading of -2.9 in Q2.
Japanese equity markets (EWJ) turned positive with the Nikkei 225 (JPXN) posting a weekly gain of 3.3% for the week ending September 15.
Article continues below advertisement
Speculators decreased bearish bets on the yen
The Japanese yen (YCL) speculators decreased short positions as per the latest Commitment of Traders (or COT) report released on September 15 by the Chicago Futures Trading Commission (or CFTC). The total net speculative positions stood at -57,294 contracts as compared to -72,945 contracts for the week ending September 8. Election uncertainty and the Bank of Japan statement are likely to impact traders' positions this week.
Week ahead for the Japanese yen
Japanese markets are closed on Monday for a holiday. News about a possible snap election in Japan next month is likely to keep the volatility quotient high. The Bank of Japan (or BOJ) will also meet to discuss monetary policy, and the post-meeting press conference is scheduled for Friday. The BOJ isn't expected to make any changes to its current policy. The market reaction to election uncertainty and the US dollar demand supply are likely to drive the yen this week.