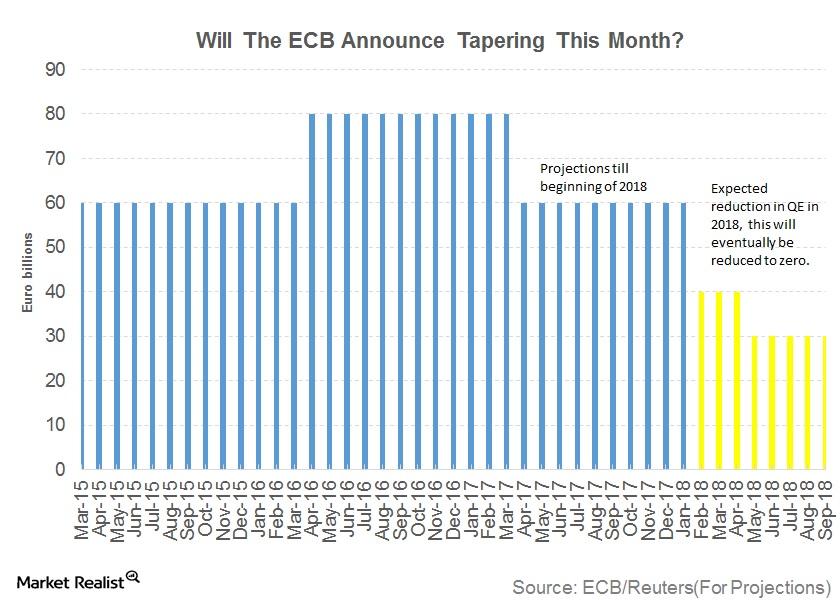 Will the ECB Surprise Markets with a Tapering Announcement?
European Central Bank meeting on September 7
The governing council of the European Central Bank (or ECB) is scheduled to meet on September 7 in Frankfurt, Germany. The meeting will be followed by a press conference.
This meeting could be another source of volatility (VIXY) for the financial markets as the suspense about the ECB's tapering plans have kept investors on edge. The main refinancing rate and the interest rate are expected to be left unchanged at 0.0% and 0.25%, respectively. However, the focus would be on the decision of reducing the monthly purchases of the ECB's Quantitative Easing (or QE) program.
Article continues below advertisement
A strong euro and weak inflation could limit the ECB
Despite a pickup in the economic performance in the Eurozone, lower inflation could be a limiting factor for the ECB. The ECB plans to release its inflation projections for the next two years at this meeting, and the projections are likely to be downgraded lower. The main reason that the ECB could cite would be the sharp appreciation witnessed in the euro (FXE) in the past few months.
Will Draghi talk down the euro?
Previous episodes of the euro's (EUO) strength were talked down by the ECB's president, Mario Draghi, but the current economic conditions allow little room for such a move. Draghi could blame the rising euro (ULE) for lower commodity prices, as imports are becoming cheaper with a rising currency.
If Draghi tries to talk the euro lower, depreciation could be short-lived. It is unlikely that there could be any major sparks from the ECB in this meeting, but markets could be volatile (SVXY) going into the event.
September could be a volatile month for the markets, but most of these risks should pose no threats. Once these risk events are past, a risk-on or a recovery rally cannot be ruled out. The only uncertainty that is likely to continue would be from North Korea, and there seems to be no solution in sight for the time being.