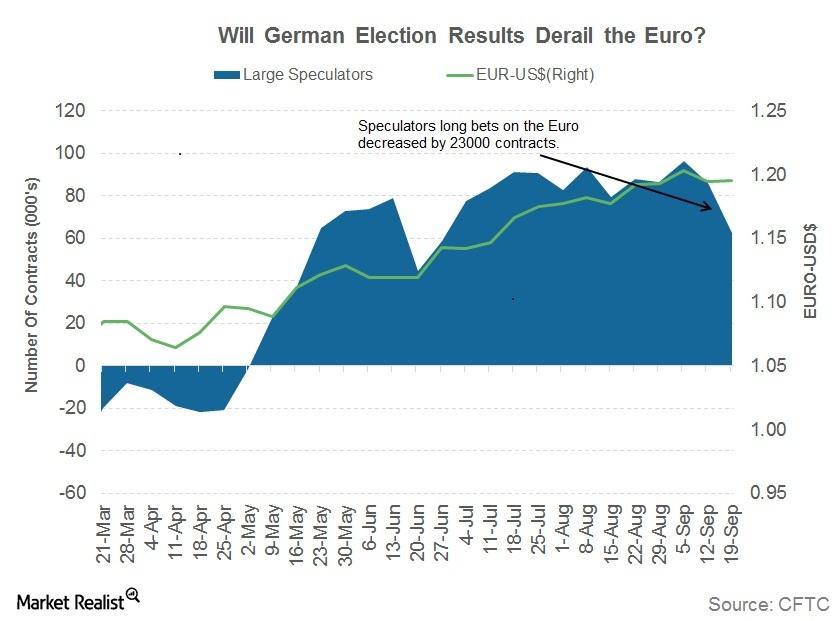 Will a Coalition Government in Germany Derail the Euro?
German elections remain the focus of euro traders
The euro-dollar (FXE) closed the week ending September 22 at 1.2 against the US dollar (UUP). Surprise from the US FOMC about further rate hikes was the key driver for the euro despite the German election being scheduled for Sunday, September 24. Markets were expecting a comfortable win for the current German Chancellor, Angela Merkel, but the results went against expectations. As the per latest update, Angela Merkel's CDU/CSU party has secured 33% of the vote and would need the support of a coalition partner to continue running the government.
European equity markets (VGK) remained positive and in line with the global sentiment. The German DAX (DAX) ended the week up 0.59%, the Euro Stoxx (FEZ) was up 0.74%, and France's CAC was up 0.27% in the previous week.
Article continues below advertisement
Euro speculators increase their bets
As per the latest Commitment of Traders (or COT) report released on Friday, September 22 by the Chicago Futures Trading Commission (or CFTC), speculators dropped their bullish bets on the euro this week.
The total net speculative bullish positions on the euro (EUFX) fell from 86,058 contracts through September 12 to 62,753 as of September 19. Speculators continued to reduce long positions for the second week in a row before the German elections and the US FOMC statement.
Will German election results derail euro momentum?
The German elections resulted in some political uncertainty as Angela Merkel's CDU party will now need the support of the FDP party and the Greens party. Initial market reactions on Monday have been mixed with DAX managing to stay positive and the euro falling 0.68% against the US dollar.
In terms of economic data, European inflation, money supply, and IFO numbers are due to be reported this week, but most of the investor focus will remain on the evolving political situation in Germany.
In the next part of this series, we'll analyze the movements of the British pound in the previous week.