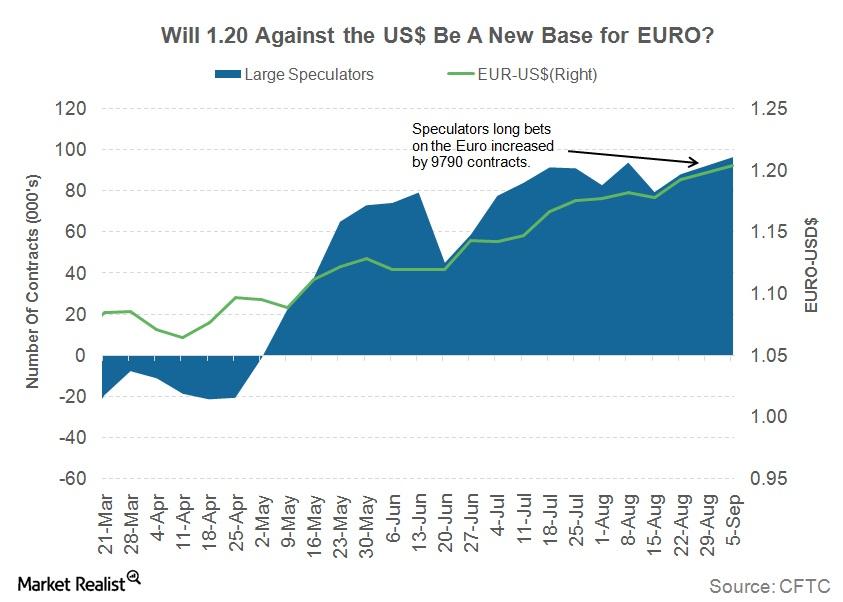 Why the Euro Rose to a 3-Year High Last Week
Euro rebounded after ECB statement
The euro (FXE) closed the week ended September 8, 2017, at ~1.20 against the US dollar (UUP). It rose 1.48% against the US dollar as euro bulls took charge after a hawkish sounding statement from the ECB (European Central Bank). The statement from ECB governor Mario Draghi didn't include an announcement on the reduction of asset purchases but indicated that it's a question of when to begin the tapering process. The markets now expect the process to be announced at the October meeting.
European equity markets (VGK) closed on a positive note in the previous week ended September 8. The German DAX (DAX) ended the week rising 1.3%, and the Euro Stoxx (FEZ) rose 0.11%. France's CAC fell 0.19%.
Article continues below advertisement
Euro speculators increase their bets
According to the latest COT (Commitment of Traders) report released on Friday, September 8, 2017, by the CFTC (Chicago Futures Trading Commission), speculators turned bullish on the euro this week.
The total net speculative bullish positions on the euro (EUFX) rose from 86,519 contracts through August 29, 2017, to 96,309 as of September 5, 2017. With the US dollar showing no signs of recovery, speculators could remain bullish on the shared currency.
Could the euro continue to surge ahead?
The ECB has upgraded the 2017 GDP forecast from 1.9% to 2.2% but reduced the forecast for inflation. Draghi, who is famous for talking the euro down, didn't do that this time and said the exchange rate isn't part of the monetary policy. With the ECB now sounding rather hawkish compared to the other central banks, currency traders could possibly place their confidence in the shared currency.
Economic data from the Eurozone remain slim this week, and the currency market focus could continue to be on the diverging monetary policy among developing nations.
In the next part of this series, we'll analyze the weekly performance of the British pound.