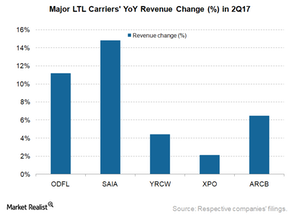 Which Less-than-Truckload Carrier Saw the Most 2Q17 Revenue Growth?
By Samuel Prince

Dec. 4 2020, Updated 10:53 a.m. ET
Dimensional weight is a factor for top-line growth
Here, we'll discuss the revenue growth of the leading LTL (less-than-truckload) carriers. The spurt in online shopping has fueled the growth of LTL operators compared to full truckload (or TL) carriers. A dimensional weight cargo when transported through LTL carriers cost less compared with TL carriers (XLI).
Dimensional weight is a pricing method for cargo transport, which includes postal services and couriers. This method uses an approximate weight, which is calculated from the height, width, and length of a shipment. This method was adopted by major less-than-truckload carriers in recent times, which helped grow their top line.
Article continues below advertisement
Which LTL carrier's revenues rose the most in 2Q17?
As we discussed, out of the major LTL carriers, SAIA (SAIA) reported the highest revenue growth of 14.8% in 2Q17. The company's revenue rose to $358.2 million from $311.9 million in the corresponding period last year. SAIA expanded into the Northeastern United States, plus the new Canadian marketing partnership led to higher tonnage and shipments. These factors along with improved fuel surcharges as well as pricing gains resulted in the solid top-line growth.
SAIA was followed by Old Dominion Freight Line (ODFL), which saw an 11.2% rise in 2Q17 revenues. The latter cited increased LTL tonnage and LTL revenue per hundredweight as the main reasons for the revenue growth in that quarter. Improvements in US economic activity resulted in higher LTL revenue per hundredweight. A hundredweight is a measurement unit for weight used in specific commodities trading contracts. In the US, hundredweight is an equivalent to 100 pounds.
Article continues below advertisement
The third top company in revenue growth among the discussed carriers was ArcBest (ARCB). The company's revenues in 2Q17 rose 6.5% driven by rate hikes in the asset-based segment, which includes LTL operations. YRC Worldwide's (YRCW) revenues rose 4.4% in the same quarter mainly due to higher volumes, increased fuel surcharge revenues, and overall yield improvement.
Why XPO's revenue growth was lowest
XPO Logistics (XPO) is the second largest provider of LTL transportation services in North America. Its overall revenues jumped 2.1% in 2Q17. However, the transportation segment, which includes LTL operations, saw 2Q17 revenues fall 0.6%. The rise in overall revenues was primarily due to solid improvement in LTL weight per day along with double-digit growth in North American brokerage and last mile revenues.
Let's analyze the operating margins of these less-than-truckload carriers.