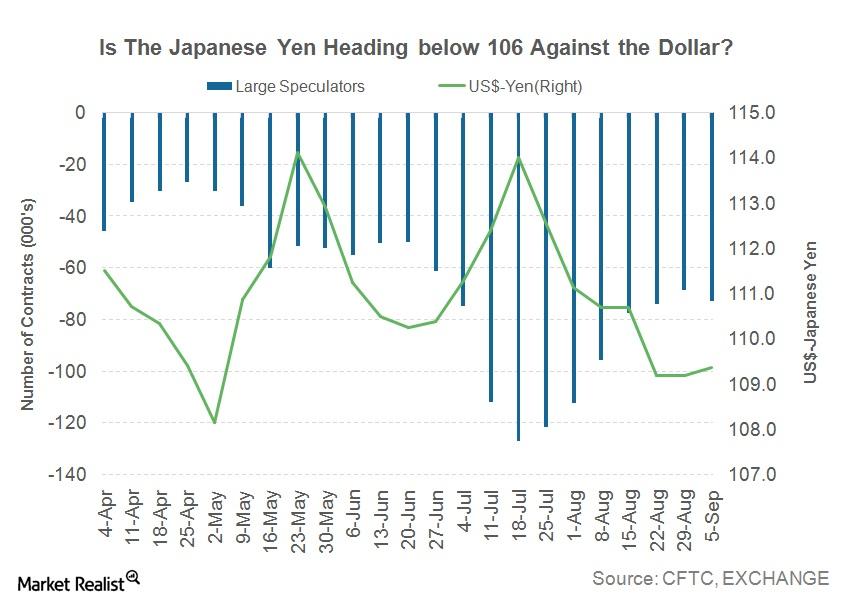 What Drove the Japanese Yen below 108 Last Week?
Yen rose due to US dollar weakness
The Japanese yen (JYN) gained ground against the US dollar last week. For the week ended September 8, 2017, the Japanese yen (FXY) closed at 107.8 against the US dollar (UUP), appreciating 0.56%. Despite a fall in the second quarter GDP, which was 0.60%, and a fall in the safe-haven demand, the Japanese yen appreciated against the US dollar since the dollar was sold aggressively in the forex (foreign exchange) markets. The reduced prospect of rate hikes from the Fed led traders to offload long dollar positions last week and pushed the yen higher.
Japanese equity markets (EWJ) closed on a negative note with the Nikkei 225 (JPXN) posting a weekly loss of 2.1% for the week ended September 8.
Article continues below advertisement
Article continues below advertisement
Speculators increased bearish bets on the yen after 7 weeks
Japanese yen (YCL) speculators increased their short positions after a gap of seven weeks. According to the latest COT (Commitment of Traders) report released on September 8, 2017, by the CFTC (Chicago Futures Trading Commission), currency market speculators' net positions in the yen (YCS) have fallen by 4,421 contracts. The total net speculative positions stood at -72,945 contracts compared to -68,524 contracts for the week ended September 1, 2017. Future position changes could be dependent on the US dollar demand, which looks negative at this point.
Week ahead for the Japanese yen
Economic data scheduled to be reported from Japan this week will take center stage. Machinery orders for July are expected to pick up after weak growth in the second quarter. Business investments and the Tankan business survey report for September are scheduled to be reported on Friday, September 15, 2017. Economic developments in Japan haven't been the primary influencers of the currency lately since investors aren't expecting any changes to the quantitative easing program of the Bank of Japan.
The strength or weakness of the US dollar could continue to drive the yen this week. Unless there's a sharp rebound in the US dollar, the Japanese yen could appreciate further.